It what has become a big weekly event – – until a couple of months ago, it wasn't even on anyone's radar – – the initial jobless claims came out today, and it's another big'un. It's diminishing, of course, but "diminishing" is relative.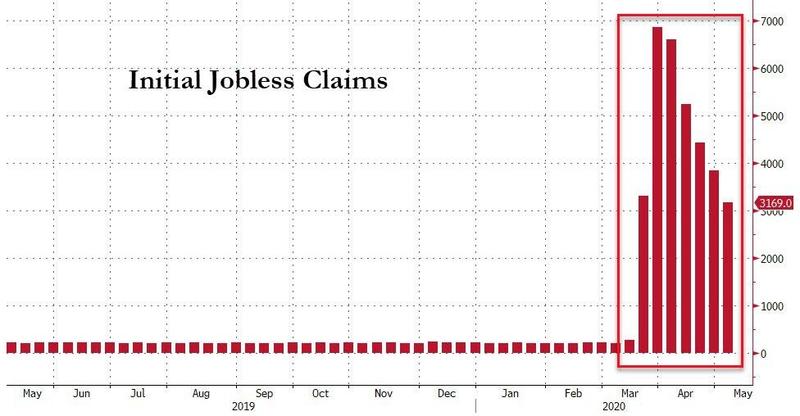 After all, take a look at the long history of employment change. Recent activity has put things into perspective. The worst months of the financial crisis look virtually immaterial. Which, if course, is why stocks are more expensive now than at any other time in history. Because what else are you going to assume about a country where no one is working?
One market which has been clearly repelled by resistance is bonds, which has been sinking in recent days. This strikes me an intriguing, since plunging bonds naturally mean rising interest rates which, let's face it, the economy doesn't really need, either. The reason the government has been able to issue trillions of debt-bux is because the interest is so close to 0. Crank that up a bit, and you've got a problem.
My focus, however, is on equities, and I continue to vacillate between hopeful and annoyed. I'm in annoyed mode this morning. Neither the bulls nor the bears are winning, although even I'll confess the bulls have been making headway. The futures on the Russell, shown below, clearly illustrate a series of higher lows, the very definition of an uptrend (albeit a modest one). This series must break in order for the bears to smile again.
I'm typing this before the open, and – – once again – – I know I'll have to "clean house" with any trouble-makers that have losses. It sure would be nice to get a downtrend that lasted more than two hours.