The Tao of Steve
In the movie "The Tao of Steve" (2000), the lead character associates the name "Steve" with cool, charismatic men such as the actor Steve McQueen. Apple (AAPL) co-founder and CEO Steve Jobs was famously cool and charismatic, and when he passed away three years ago, investors wondered what impact that would have on the company. As we now know, Apple rocketed to new highs over the next few years. The company had a product pipleline in place, and a wide moat: the convenience of upgrading to a new iPhone, for example, and keeping all of your data and apps, was and still is a powerful inducement to remain an Apple customer. Reactions to Apple's San Francisco product launch event on Wednesday, however, suggest that Apple may have finally ran out of the residual Steve Jobs cool factor.

Apple Debuts New Products
Among the products unveiled at Apple's event, in addition to updated versions of the iPhone, was a new, 12.9″ iPad, replete with accessories such as a keyboard and stylus, as Eric Jhonsa reported.
Mockery Ensues
I follow a number of individuals in technology, finance, and entertainment on Twitter (TWTR), and, for the most part, their reactions to Apple's event were surprisingly harsh. Below are a few samples.
With Apple products long a preferred choice of creative professionals, it was surprising to see this dismissive tweet by "Family Guy" staff writer Damien Fahey (@DamienFahey):

Andy Swan (@AndySwan), serial fintech entrepreneur and co-founder of LikeFolio, was underwhelmed by the Apple event as well, and surprised by the addition of the stylus (some readers may remember using one with their Palm Pilots a dozen years ago):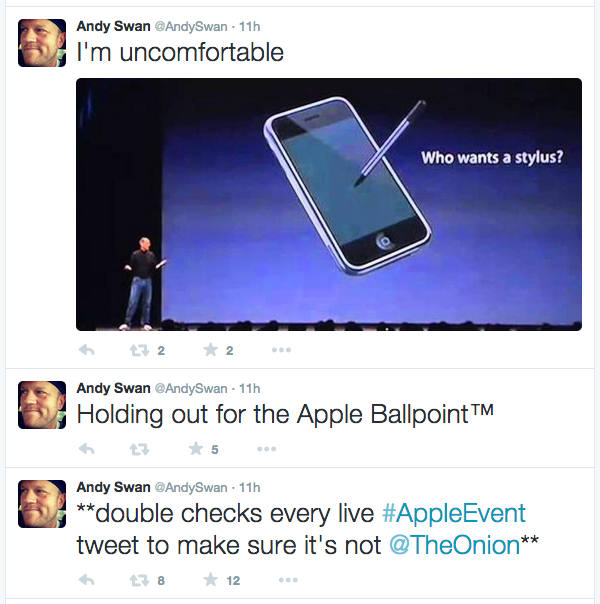 The stylus, as Rob Price of Business Insider noted ("Apple just announced a product that Steve Jobs famously hated"), had been rejected by Apple's late co-founder Steve Jobs. The Onion, for anyone unfamiliar, is a satirical newspaper and website.
Bob Brinker (@BobBrinker), investor and publisher of the Fixed Income Advisor, had a similar reaction to the stylus, and also alluded to the similarities between Apple's new, larger iPad and the Surface tablet from Microsoft (MSFT):

Brinker wasn't the only one to highlight (and mock) the similarity of Apple's new iPad to the Microsoft Surface tablet. Technology journalist Alex Donaldson (@APZonerunner), in a tweet retweeted nearly 12,000 times as of early Thursday morning, shared a "Hijinks Ensue" comic strip by Joel Watson that anticipated Apple's copying of Microsoft's Surface tablet three years ago (as a warning to those who may be offended, the strip contains an expletive or two).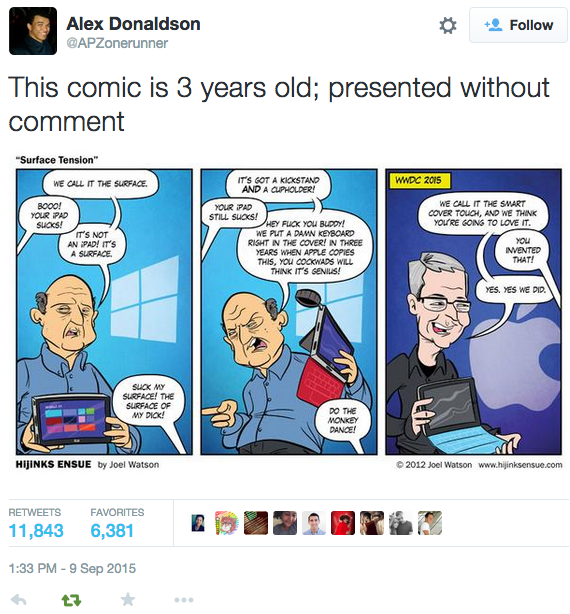 Consider that, for a moment. Apple began its spectacularly successful expansion into mobile products with the launch of the iPod portable music player in 2001. Five years later, Microsoft followed with its now-abandoned iPod competitor called Zune. Now, Apple is copying Microsoft. When was the last time Microsoft was considered cool?
Hedging Cost as an Indicator
In a recent article ("Tetraphase Pharma Offers A Lesson In Risk Management"), we noted that high hedging cost can be seen as a negative indicator. Of course, Tetraphase (TTPH), a small biotech stock, was an extreme example, and, as you would expect, Apple is nowhere near as expensive to hedge, because it's not even in the same ballpark in terms of risk. Apple is the largest company by market cap in the world, and it has enough cash on hand to fill 93 olympic swimming pools. That said, longs may wonder why Apple is now more expensive to hedge against a greater-than-20% drop over the next several months than Microsoft or Google (GOOG), on an annualized basis, as the screen capture below from Portfolio Armor shows. I included the Technology Select Sector SPDR ETF (XLK) as well, as an additional point of comparison.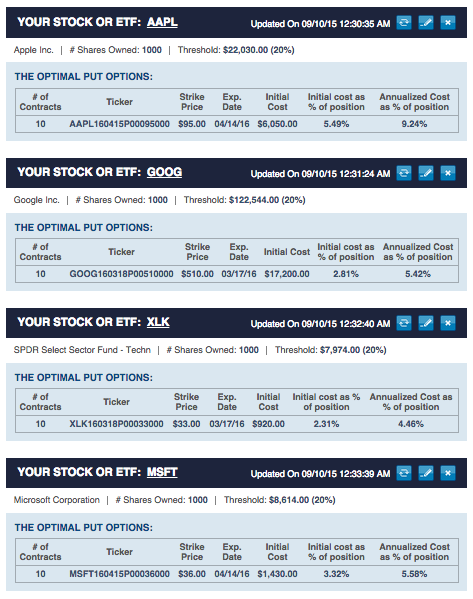 Hedging Cost and Potential Return
Portfolio Armor takes into account the costs of hedging in various ways to gauge option market sentiment for underlying securities, which it uses, along with price history, to calculate a potential return over the next six months. A potential return, in our terminology, is a high-end, bullish performance estimate; In a series of 25,412 backtests over an 11 year time period, we determined two things about our method of calculating potential returns: it generates alpha, and it overstates actual returns. The average actual return over the next six months in those 25,412 tests was 0.3x the average potential return calculated ahead of time (we went into more detail on this in a recent article, "Backtesting The Hedged Return Method").
With that in mind, here are potential returns the site calculated for Apple, Google, Microsoft, and XLK over the next six months, as of Wednesday's close:
AAPL: 2.1%
GOOG: 11%
MSFT: 1.8%
XLK: Flat to negative (when the site doesn't calculate a positive potential return for a security, it doesn't attempt to be more precise, since it wouldn't include the security in a hedged portfolio.)