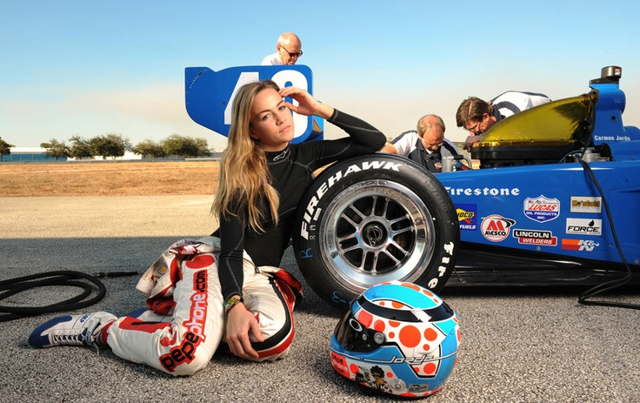 Spanish Race Car Driver Carmen Jordá, via Pinterest.
Investing With A Helmet On
I like to describe Portfolio Armor's hedged portfolio method as "investing with a helmet on" – partly, because it captures the risk minimizing aspect of it, and partly because it gives me an excuse to post photos like the one above. Let me give you a brief explanation of what it is, and then show you an example of it.
The Basic Idea
The basic idea here is to buy and hedge a handful of names that have high potential returns relative to their hedging costs. Portfolio Armor ranks thousands of securities traded in the U.S. according to their potential returns net of hedging cost each day. We've been posting the top ten names from this ranking every week since June of 2017, and tracking their returns (unhedged) in real time over the next 6 months. So far, we have full 6-month performance for 75 weekly cohorts. You can see how all of them have done here; on average, they have outperformed SPY by 2.4% over 6 months, or 4.8% annualized.
A Current Example
It helps to have some alpha to overcome hedging costs, but sometimes the hedging costs are actually negative. That was the case with the hedged portfolio below. This is what Portfolio Armor presented to a subscriber on Wednesday who had $100,000 to invest and wanted to maximize his returns over the next 6 months while not risking a decline of more than 20% in a worst case scenario: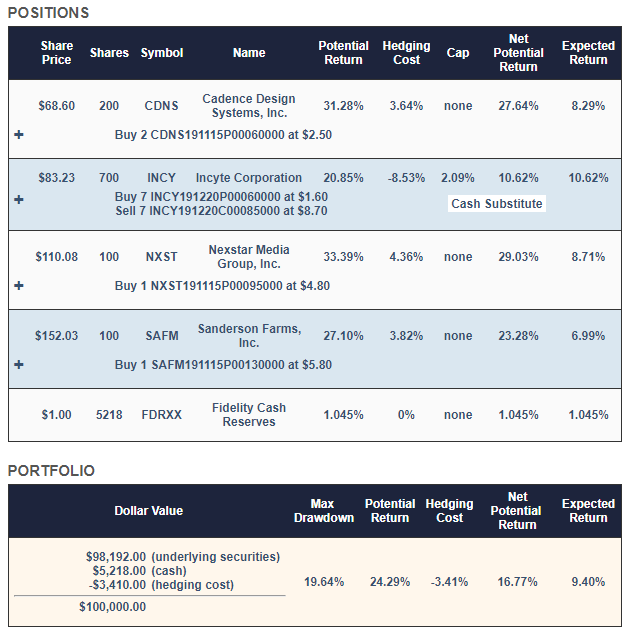 The primary securities here were Cadence Design Systems (CDNS), Nexstar Media (NXST), and Sanderson Farms (SAFM). These were the top names from our daily ranking on Wednesday that had share prices low enough that you could fit a few in a $100,000 portfolio. The site started with equal dollar amounts, and then rounded those dollar amounts down to get round lots of each name.
Each of those stocks was hedged with optimal, or least expensive puts. The site tries hedging securities each way, weighing the lower cost of optimal collars against the higher upside potential of uncapped optimal puts; here, the puts won out.
In a fine-tuning step, the site selected Incyte (INCY) to absorb cash left over from the process of rounding down the primary securities. INCY is hedged with an optimal, or least expensive, collar with a cap set at the current seven-day (annual) yield of the Fidelity Government Cash Reserves money market fund (FDRXX). The hedging cost of this is negative: The idea here is to get a shot at a higher return than cash while lowering the overall hedging cost of the portfolio and limiting your downside risk in accordance with your risk tolerance (to a drawdown of no more than 20%).
Portfolio Characteristics
Here's a closer look at the portfolio summary and what it means.

The Worst-Case Scenario
The Max Drawdown is the worst-case scenario. That's what would happen if each of the underlying securities went to $0 before their hedges expired (the idea is to hold each position for six months or until just before its hedge expires, whichever comes first). In that case, you'd be down no more than 19.64%.
Hedging Cost
This is the aggregate cost of hedging the portfolio. Note that it is negative in this case, meaning you would collect a net credit of $3,410 after opening the hedges, assuming, conservatively, that you placed each options trade at the worst end of its spread.
The Best-Case Scenario
The best-case scenario is the net potential return of 16.77%. That's what you'd get if each security hit its potential return, which is unlikely.
A More Likely Scenario
Each time Portfolio Armor estimates a potential return for a security, it tracks how that security actually performed six months later, and it continually updates the ratio of actual returns to potential returns. The expected return of 9.4% takes that ratio into account, along with the hedging cost. The odds of hitting that number on the nose in a particular portfolio are slim, but, on average, the actual returns will tend to track fairly close to expected returns over the long term (a gap grew between expected an actual returns recently, due to some negative performance last fall, but I expect that to close as more portfolios rack up positive returns).
We'll See How This One Does
Regardless of how this portfolio performs, I'll post an update here so you know. In the meantime, you can see how a few dozen other portfolios hedged against >20% declines have performed at the bottom of this page.