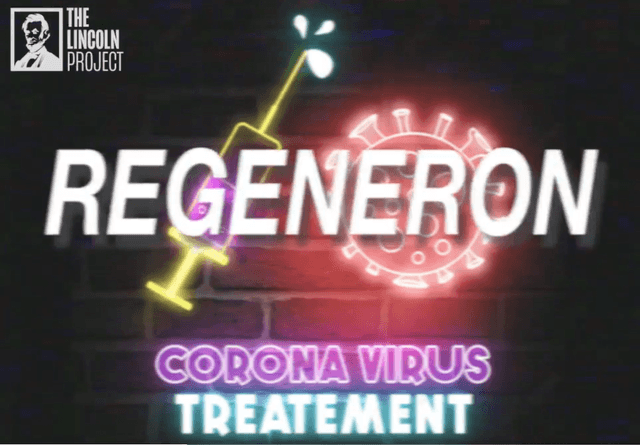 The Lincoln Project turned President Trump's endorsement of Regeneron's experimental COVID-19 treatment into an '80s-style infomercial (screen capture via their tweeted video).
A Double-Edged Sword For Regeneron Longs
In what may have been a first for a biotech company, a sitting President made a video endorsing one of its experimental treatments. President Trump's endorsement boosted the stock, but may have added an element of political risk to it as well. Let's look at why, and then explore how Regeneron shareholders can stay long while strictly limiting their risk.
A Timely Bullish Call On Regeneron
After President Trump's press secretary released details of his COVID-19 treatment regimen on October 2nd, our psuedonymous Twitter correspondent "Pere Grimmer" made a timely bullish call on Regeneron:
President Trump Touts Regeneron
Five days later, Pere Grimmer was able to take a victory lap after President Trump credited Regeneron's experimental COVID-19 treatment for his recovery from the novel coronavirus. "I think this was the key," the President said in the video below about the Regeneron treatment doctors at Walter Reed gave him.
Regeneron Shares Climb
Regeneron shares closed at $564.80 the day President Trump was diagnosed with COVID-19; they opened at $605.02 the day after Trump's video.
It Gets Political
During the Vice Presidential debate on Wednesday night, Senator Kamala Harris said she wouldn't take a COVID-19 vaccine if it had been endorsed by Donald Trump.
The next day, The anti-Trump political action committee The Lincoln Project released their video mocking Trump's endorsement of Regeneron.
The Lincoln Project is comprised of Republican operatives such as the late Senator John McCain's campaign manager, Steve Schmidt. With no home left in Trump's Republican Party, they have become his fiercest critics, collecting donations from President Trump's opponents.
Enter Political Risk
Ideally, politics would play no part in deciding which biotech companies profit from producing COVID-19 treatments. But in the current environment, everything is politicized, as Senator Harris's comments about a possible vaccine endorsed by Trump suggest. If she and former Vice President Biden win the election, there's a risk that Regeneron's association with President Trump will hurt the company in its dealings with the new administration. For example, a Biden Administration may decide to buy treatments from one of Regeneron's competitors such as Eli Lilly (LLY) instead.
How Regeneron Longs Can Limit Their Risk
In the video below, we show a few ways Regeneron shareholders can strictly limit their risk while staying long. We scan for optimal put and optimal collar hedges on Regeneron to protect investors against declines greater-than-20% over the next several months.
As we note in the video, although we used a 20% decline threshold in those examples, you can scan for optimal hedges to protect against larger or smaller declines. It's best to start with your risk tolerance, and then to adjust parameters to scan for an economical hedge.