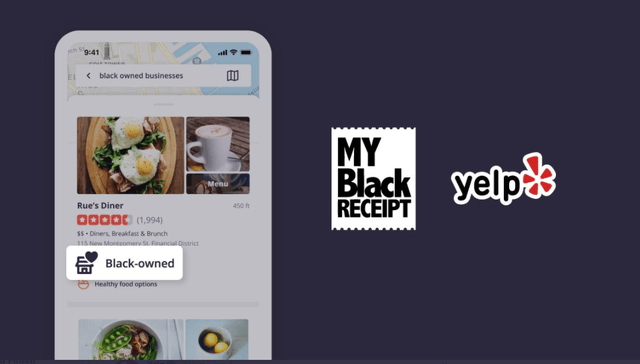 A previous initiative announced by Yelp, highlighting black-owned businesses (image via Yelp).
A Tough Year For Yelp
In previous articles we've looked at companies that have benefited from the COVID-19 economy, such as Peloton (PTON). Yelp (YELP) is in the opposite category. Its shares are down year-to-date, as many of the businesses it rates have been shuttered due to lockdowns.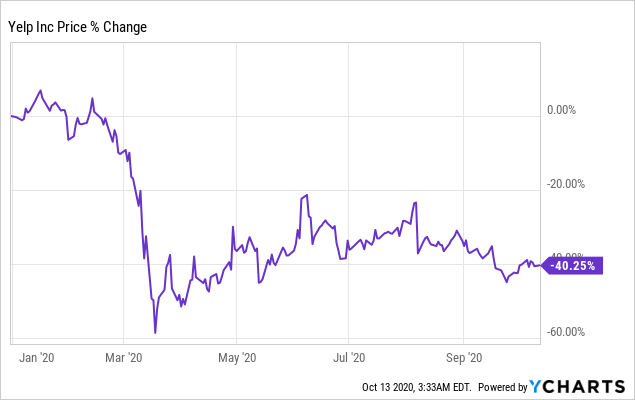 Now Yelp has courted a controversy. Let's address that, and then look at ways Yelp bulls can limit their risk.
Yelp's Latest Controversy
Last week, Yelp announced it was adding a feature to tar businesses as racist.
American Conservative columnist Rod Dreher was one of a number of pundits on the right warning how dishonest customers or competitors might abuse the feature.
In his column, Dreher pointed to a previous case where a company was falsely accused of racism:
Yelp is experimenting with a crude social credit system. That's bad enough, but this one is completely unmoderated. There is no way to tell if a business owner is the victim of false accusations (say, by a competitor who wants to hurt his sales). Last year, a court ordered Oberlin College to pay a local bakery $11 million when it lost a libel suit over the college falsely accusing the bakery of racial profiling — this, after a handful of black student activists ginned up false stories to hurt the bakery. Hurt it they did, especially when Oberlin joined in the boycott.
Calls For A Boycott
Conservative pundit Michelle Malkin tweeted that she had cancelled her Yelp account and called for others to boycott the company.
In late 2016, some Trump supporters called for boycotts against PepsiCo (PEP), GrubHub (GRUB), and Kellogg (K). With PepsiCo and GrubHub, they called for boycotts because of comments those companies' respective CEOs made about Trump. In the case of Kellogg, they called for a boycott because Kellogg had announced it would no longer advertise on Breitbart. And in early 2017, some prominent Trump opponents called for a boycott of Uber (UBER) due to the company undermining a taxi union protest against Trump's restrictions on Muslim immigration. Here's how each of those companies have performed since the beginning of 2017.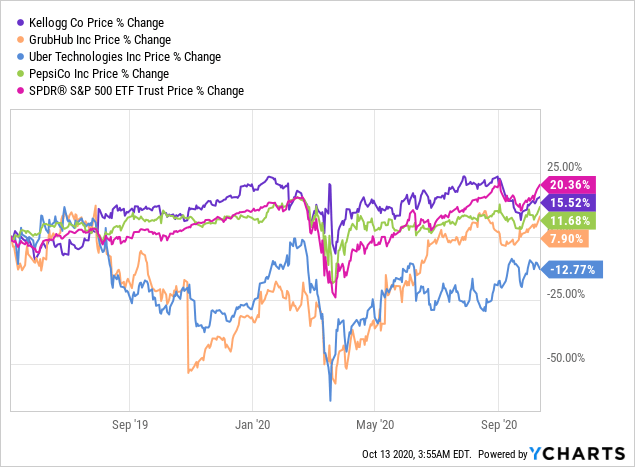 Each of them has lagged the market, as measured by the SPDR S&P 500 ETF (SPY). How much of that is the result of the boycott calls I can't say. In the case of Yelp, though, the boycott calls come while the stock is already down 40% year-to-date. Given that, it may be prudent for Yelp longs to consider was to limit their risk.
Limiting Your Risk In Yelp
The simplest way to limit your risk in Yelp would be to sell it. We made the video below for Yelp shareholders who are still bullish on the company and want to stay long while limiting their risk. In this video, we demonstrate ways to scan for optimal, or least-expensive, put option and collar hedges.
As you can see in the video, Yelp is prohibitively expensive to hedge with put options now (which itself can be seen as an indication of risk). It is possible to cost-effectively hedge it with optimal collars. Cautious Yelp bulls ought to consider doing so.