Preface from Tim: David Pinsen wrote the item below. From what I can tell, there is nothing particularly partisan about it, although it obviously has dozens of political references. For the love of my personal savior, sweet baby Jesus, don't get into another ridiculous political slam-fest. David has some things to say about symbols, so lay off the politics. Thank yew, thank yew.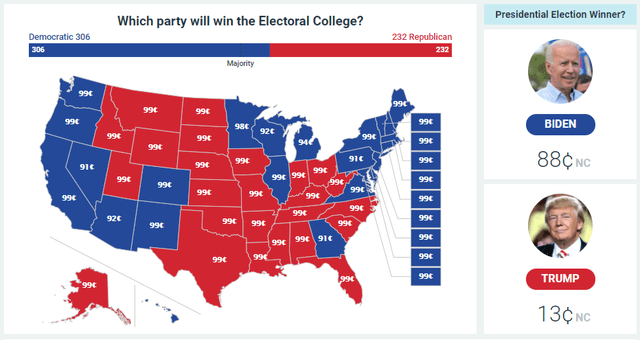 PredictIt odds on the Presidential election, as of Tuesday night.
Two Weeks Later
It's been two weeks since Election Day, and more than a week since the major networks called the election for Joe Biden. Nevertheless, President Trump has not conceded. As of Tuesday night, PredictIt gave Trump a 13% chance of winning reelection in the Electoral College. In other words, we have a contested election.
The Market Doesn't Mind
At the end of September, the New York Times warned about the prospect of a contested election. After reading their warning, I posted the YouTube video below showing investors how to hedge against that risk.
And yet, since the election, the S&P 500 is up and its volatility has plummeted.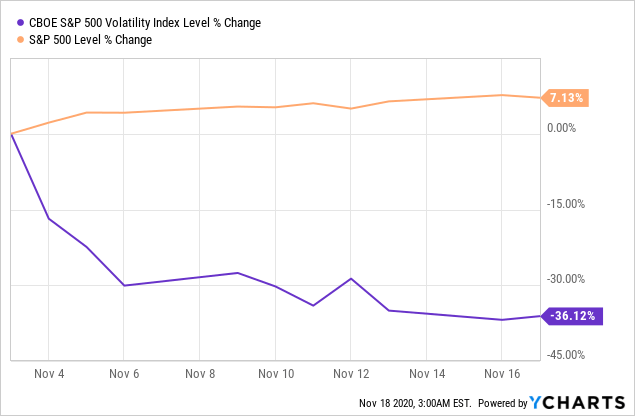 Neoliberalism Versus Populism
In hindsight, the market reaction since the election is understandable. Of course, news of successful vaccines against COVID-19 by Pfizer (PFE) and BioNTech (BNTX) and Moderna (MRNA) buoyed stocks. But also, Biden and Trump are basically corporate-friendly. There are significant differences between Biden and Trump on other areas, such as immigration and foreign policy, but Corporate America would thrive under either. President Trump may be a populist, but the first major legislation he signed included a cut in the corporate income tax rate. Joe Biden may have been endorsed by the socialist Senator Bernie Sanders, but as Jacobin Magazine lamented this week, Biden has no plans of offering him a cabinet spot.
Instead, Biden's transition team, as Nathan Robinson points out below, includes executives from such socialist outposts as Lyft (LYFT), Amazon (AMZN), Uber (UBER), JP Morgan (JPM), Visa (V), and Capital One (COF).
Capital Won
It's notable that Biden has tapped executives from Uber and Lyft, in particular. His running mate Senator Kamala Harris's sister works for Uber, and Senator Harris's brother-in-law led the fight against California's Proposition 22, which would have given labor protections to Uber and Lyft drivers, along with other gig workers.
Putting Money To Work Now
Below are Portfolio Armor's current top ten names, as of Tuesday's close.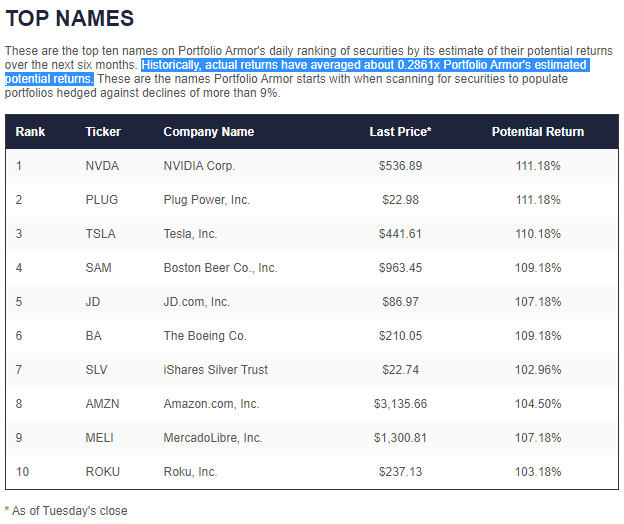 Our Top Names as of November 17th.
Those are the securities our site estimates have the highest return potential over the next six months, net of hedging cost. It estimates returns by analyzing past returns as well as forward-looking options market sentiment.
Two of Tuesday's top names, Nvidia (NVDA) and Tesla (TSLA) were also top names in our June 4th cohort.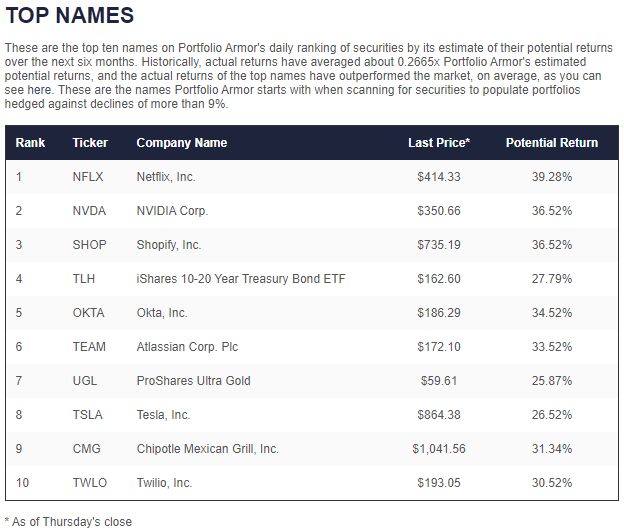 Our Top Names as of June 4th.
Here's how that June 4th cohort has performed since.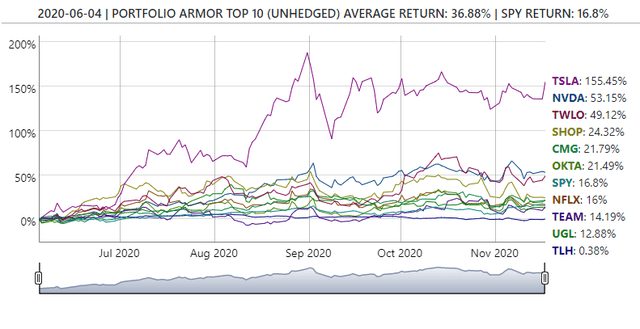 As you can see, Tesla and Nvidia were the top performers from our June 4th cohort. You can use our app to scan for optimal hedges for Tesla and Nvidia in case we're wrong about them this time.