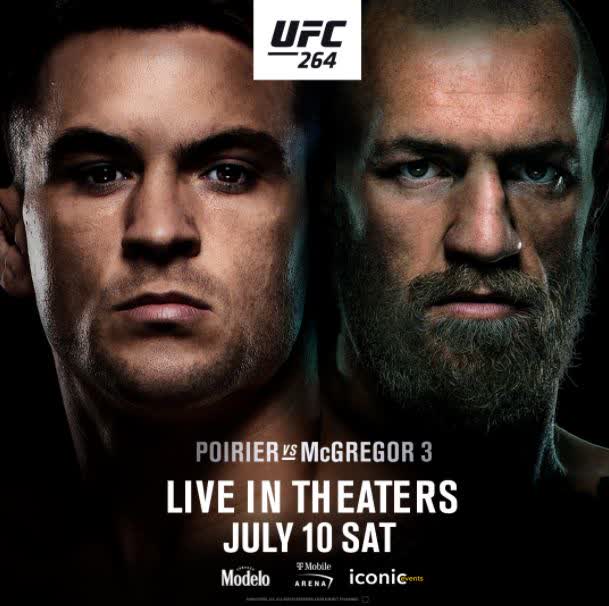 A promo for UFC 264 shared by AMC Theaters on Twitter over the weekend.
AMC + The UFC
Shareholders of AMC Entertainment Holdings (AMC) were excited by the tweet below by the theater chain over the weekend announcing that next week's UFC 264 would be screened in select theaters. https://seekingalpha.com/embed/15586
Apparently, this move was suggested to AMC's CEO Adam Aron by the Reddit "apes" who have made AMC a meme stock, and enabled it to raise billions of dollars in new equity.
A Top Name In April, And Again On Friday
Readers of our previous post ("A Structural Inflation Shock") may have noticed that AMC appeared in our top ten names on Friday, in addition to the natural gas ETF (BOIL) that was the subject of that article.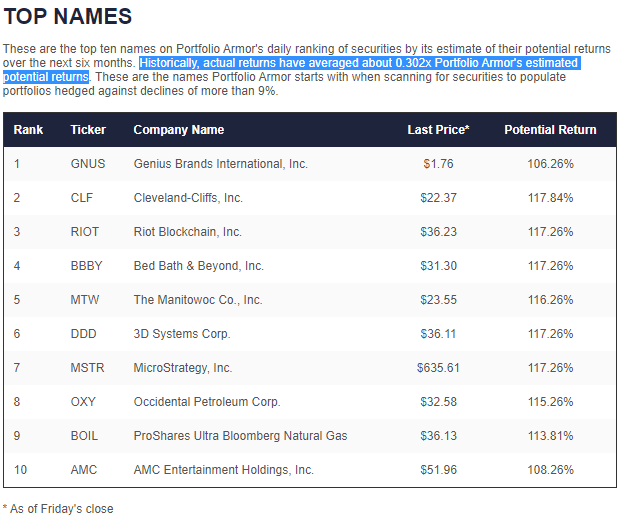 Screen capture via Portfolio Armor on 7/2/2021.
Friday wasn't the first time AMC appeared in our top names. It first appeared in our top ten on April 1st. Since then, the stock is up 455%.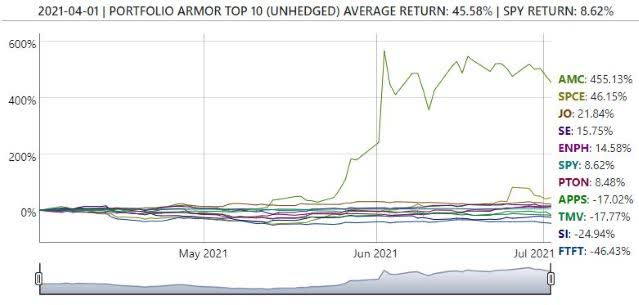 After that kind of gain, longs should obviously be thinking about downside protection. Below, we'll look at a way they can add some downside protection while holding out for more gains.
A Hedged Bet On Another Leg Up For AMC
In video below, we use our app to scan for an optimal collar to hedge against a greater-than-30% drop in AMC over the next six and a half months, while allowing another 100% of possible upside. https://seekingalpha.com/embed/15587
By the way, Poirier is currently a -130 favorite to beat McGregor in their 3rd fight, but you can get +175 on Poirier to win by KO, TKO, or DQ. That's probably the bet we'll take.