The Point Of Hedging
The point of hedging is to protect against unlikely, adverse outcomes. In general, you buy a stock because you think it's going to go up; you hedge in case you are wrong. Sometimes an example from outside of investing can be useful to illustrate the principle. Here's one from Saturday's UFC 269 mixed martial arts event.
A Prohibitive Favorite
The then-reigning women's bantamweight champion, Amanda Nunes, was a prohibitive favorite to win her match against Julianna Peña. The odds on Nunes before the fight were -1000, meaning that you would have to bet $1,000 on her to win $100. In contrast, the odds on underdog Peña were +650, meaning a $100 bet on her would win $650. On the MMA website Tapology, 96% of registered users had picked Nunes to win.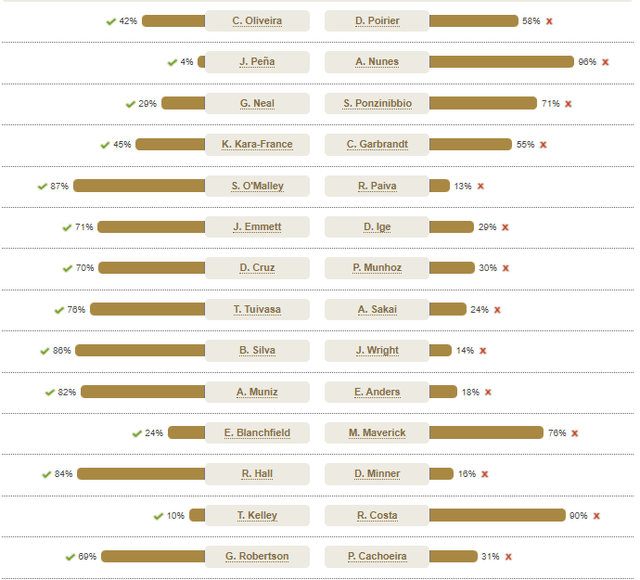 Although I expected Nunes to win, -1000 odds weren't attractive to me, so I added her in a three-leg parlay including Robertson and Silva. If all three fighters won, the payout on that would have been -135.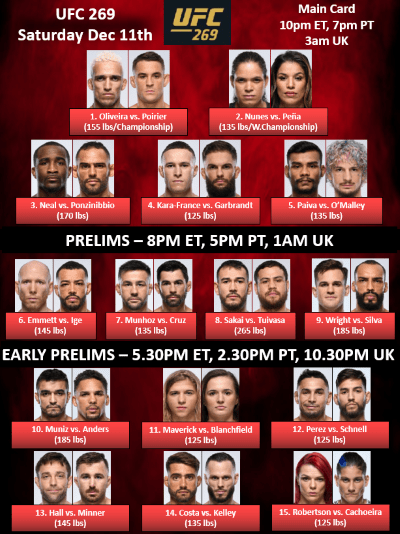 Hedging Against An Upset
By the time the main card started, Robertson and Silva had both won, so only the Nunes leg of the parlay remained. At that point, I placed a small bet on Peña as a hedge. When Nunes lost, the $10 bet on the three-leg parlay lost…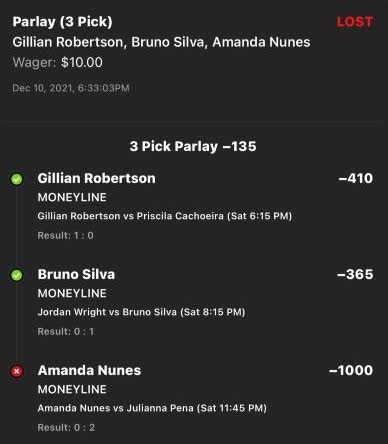 But the $1.50 bet on Peña won, earning $9.75 ($11.25 minus the $1.50 stake), making up for nearly all the loss on the $10 parlay.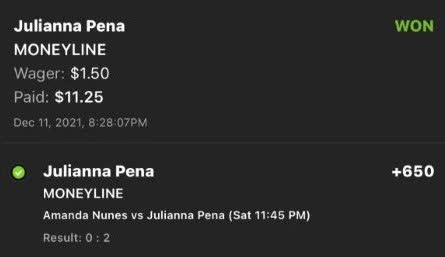 The dollar amounts above are small, but the same approach would have worked with much larger dollar amounts. For example, if you had placed a $250,000 bet on the same parlay, you could have hedged in a similar way by placing a $37,500 bet on Peña. A $40,000 bet on Peña would have been even better, assuring you of a gain regardless of which woman won.
A Sandbox For Speculation
Sports betting with small dollar amounts can be a sort of sandbox for speculation, where you can practice position sizing, hedging, and other techniques to maximize returns while limiting your risk. If you'd like to play along the UFC event next week, here's a link for $100 in free bets on DraftKings if it's legally available where you are.