Well now that we've got that out of the way
Get what out of the way you ask?
Breakout into new all time highs in the S&P 500 that is.  We're not really excited about this breakout errr eek into a new high rather as it took place into a holiday and into quarter end window dressing. But it is what it is.  Don't forget to be on the lookout for a shake and bake shake out high here folks.  If that's going to happen, it's going to happen soon.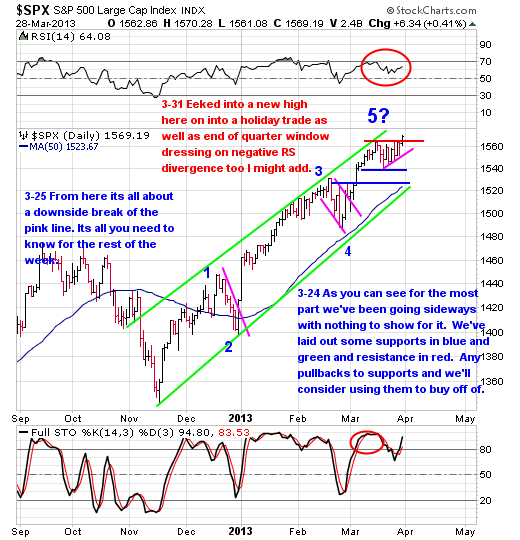 We've spent a lot of time the past few days looking at tons of stocks and you know what? One would think with a breakout into new all time highs in the indexes we'd be seeing a lot of names set up on the long side but we aren't . What we do see are a lot of charts that look like this:
JNJ
KR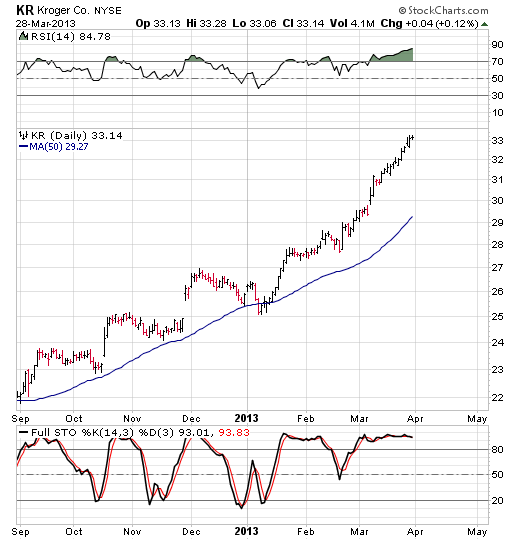 K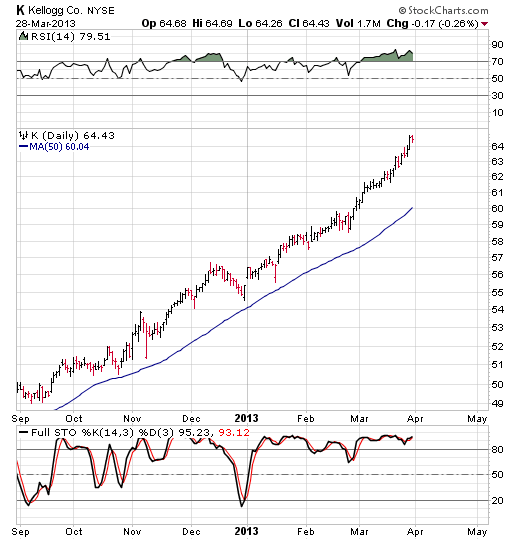 GIS
This is where the bulk of the gains have came from last quarter.  See the theme here?  Consumer staples.  These are DEFENSIVE ISSUES. Typically when defensive "people still gotta eat" issues start to lead it says something about  what big mutual funds and money managers are thinking down the road.
Now a lot of you when you look at these may say these are great shorts coming soon.  We get that BUT if the market sees bad times ahead the big "long only have to stay invested money" looks for a safe port. They may not be looking for returns out of these going forward, just a safe port. So we wouldn't think about shorting them anytime soon.  It also may be saying batten down the hatches we might be in for some rough seas soon.
We've said it time and time again that we do not chase stocks. If we don't buy the extended stocks above then when do we buy? We buy stocks that are in uptrends that are pulling back off highs (POH) and you know what? We see very little of that outside of what's on our watch list for the time being. A healthy pullback though? We'll then see a lot set up so stay tuned. In the meantime these two are the best looking on our list currently.
GOOG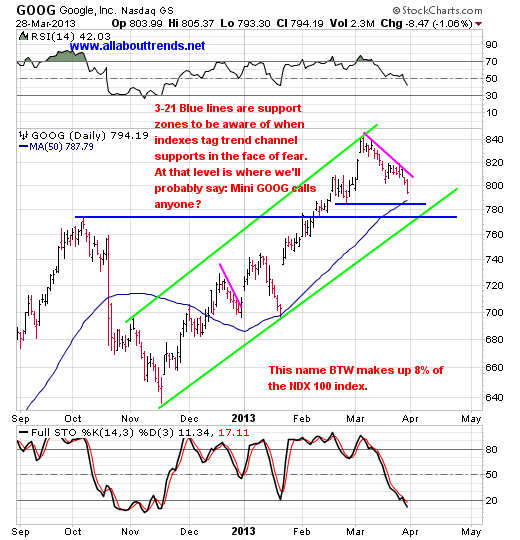 C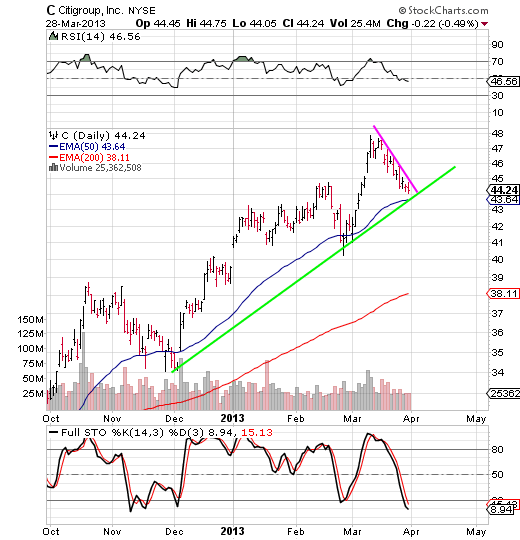 "
Look at JNJ and KRO etc. then compare those  to GOOG and C . Big difference right?  Call it a tale of two tapes. See any low risk entry points in JNJ, KRO, K  and GIS?  Us neither.  That's what's been going on, the extended get more extended — all right into quarter end.
If you subscribe to the theory that money stays in the markets but rotates around then what does that say about JNJ, KRO, K and anything else that's been on a tear and extended or has gotten marked up into quarter end? At the least it means you are late to the party. While these issues may just track sideways from here as big ocean tankers look for a safe port. Money is still going to rotate and look for a home.
So where is money going to rotate to? It's going to go somewhere. It always does, maybe the financials that have lagged of late? (Citigroup and the like?) Tech? (GOOG). Honestly? We don't know and neither does anyone else, all we know is from a technical perspective those two stocks look primed for a move higher.
Let's not forget about tape painting here either because as we've seen the market has a way of gravitating to names that are able to keep the drive alive on the surface, just look at the DOW's eeking into a new high Thursday. IBM was up 2.40 points which Thursday accounted for about 20 some points of the 52 points — yep, almost half the indexes move came from one heavily weighted stock.
That's part of why we like GOOG here.  It makes up 8% of NDX 100 index, it's in a clearly defined uptrend, it's pulling back off highs to trend channel support and last quarter tech lagged. All of those are good reasons for why we are looking at it especially with it making up 8% of the NDX 100 index. What that part really means is if they want to keep the index afloat or make it move all they have to do is pop that stock, not to mention it has no topping pattern in place either which is another good thing.  That goes for a lot of financials too by the way.
And finally…
There was a lot of talk last week about how Uncle Ben and his wild rice gang have got your back and we'll never go down again (be careful about forming an opinion on that folks because that's called complacency).  We've touched upon that in the form of the markets can still go into corrections too you know so we'll spare you the repeat of that conversation. BUT we will say though that even if he does have your back the extended are still extended regardless.  Much like the old adage of last cycles leaders are next cycles laggards the same can be applied to this past quarter — last quarter's leaders next quarter's laggards? We'll find out in the next two weeks.
Let's also not forget about seasonality with the best time being November through April and the worst time April through October.  So that's an issue that is going to be coming to the forefront too you know.  No matter though as we are opportunists around here and that means both sides of the market. So you see we actually love corrections because it's an opportunity.