Shopify CEO Tobi Lütke on stage with Canada PM Justin Trudeau (via Shopify)
Nice Quarter, But What Next?
Shares of Shopify (SHOP) have now nearly doubled from the March 23 market low, after the company posted 47% revenue growth in its Q1 results.
Shopify is now an $80 billion market cap company, despite suspending its 2020 guidance last month due to the coronavirus. The company included this slide in its Q1 investor presentation, highlighting how a brick & mortar small business shuttered in the wake of COVID-19 uses Shopify's online store to sell gift cards.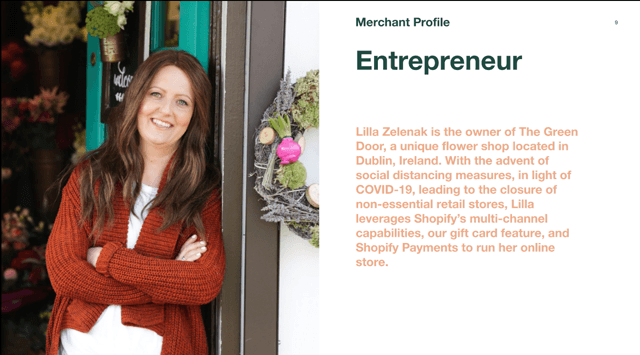 Image via Shopify.
But this seems to also highlight the precariousness of the businesses that are Shopify's customers. How many will still be around if the coronavirus closures drag on? BlackRock's Larry Fink predicts "a wave of bankruptcies" will hit American businesses; presumably the prospects aren't much rosier for other Shopify markets hit hard by the virus.
Given the gloomy economic outlook, Shopify shareholders may want to take their gains here. For those who would rather hold on for a bit more, let's look at a way they can stay long while limiting their downside risk.
Hedging Shopify
One challenge with hedging Shopify is that it's very expensive to do so with protective puts now. For example, if you tried to hedge against a greater-than-18% decline over the next 6 months using our app on Wednesday, you would have gotten this error message.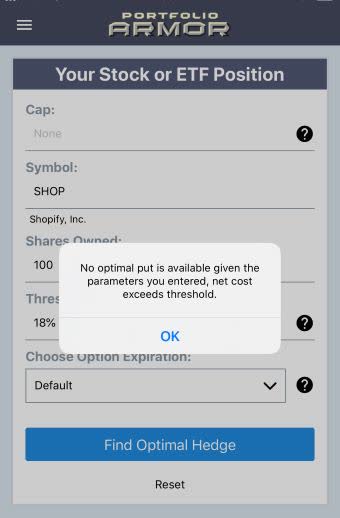 Image via the Portfolio Armor iOS app.
The least expensive put option expiring in November to protect against a >18% decline in SHOP by then cost more than 18% of position value on Wednesday, which is why that error message appeared.
However, if you were willing to cap your upside at 19% over the same time frame, this was the optimal collar to protect against a >18% decline by late November: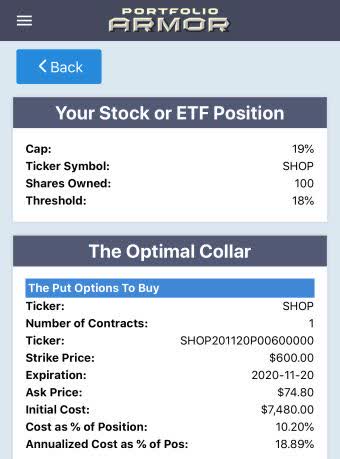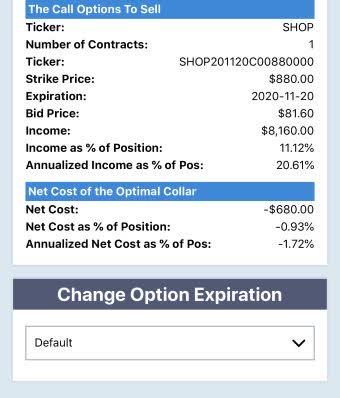 In this case, the income from the call leg more than offset the cost of the puts, so the net cost was negative, meaning you would have collected a net credit of $680, or 0.93% of position value when opening this hedge, assuming (to be conservative) that you bought the puts and sold the calls at the worst ends of their respective spreads.
Something to consider if you're intent on staying long Shopify.