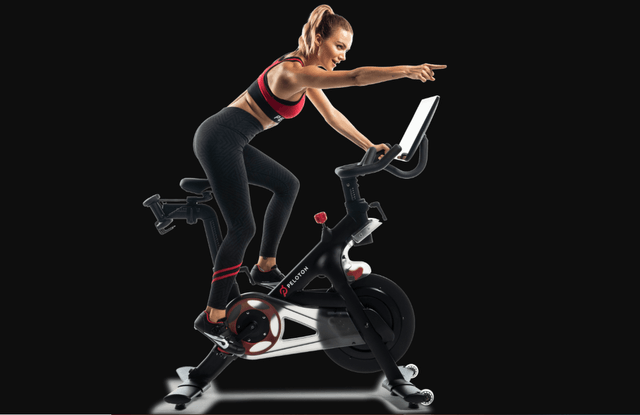 Peloton instructor Leanne Hainsby (image via Peloton).
Peloton Keeps Pedaling
Last month, we noted that Peloton (PTON) has been one of the big winners of the COVID-19 economy and looked at ways to hedge it. Since then, Peloton shares have continued their parabolic move. Here we elaborate on that. We also note why our system is currently bullish on it, and show updated ways of hedging it.
Taking Advantage Of An Opportunity
Back in May I argued that government leaders missed an opportunity to mitigate COVID-19 by encouraging citizens to lose weight.
Five months later, the New York Times makes a similar point.
While government leaders missed this opportunity, Peloton took advantage of it. Peloton sold more of its home exercise equipment and services with gyms closed due to lockdowns. In its most recent quarter, Peloton's revenues increased 99.5% year-over-year.
Going Parabolic
Peloton's share price has outpaced its revenue growth. When we wrote about hedging Peloton last month, the shares were already up over 220% year-to-date.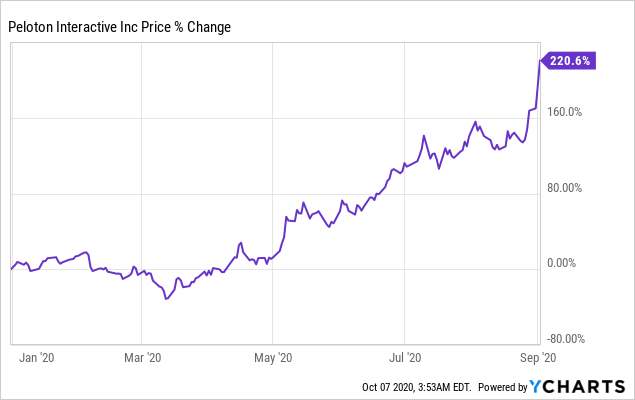 Since then, Peloton shares had climbed another 22.24% as of Tuesday's close.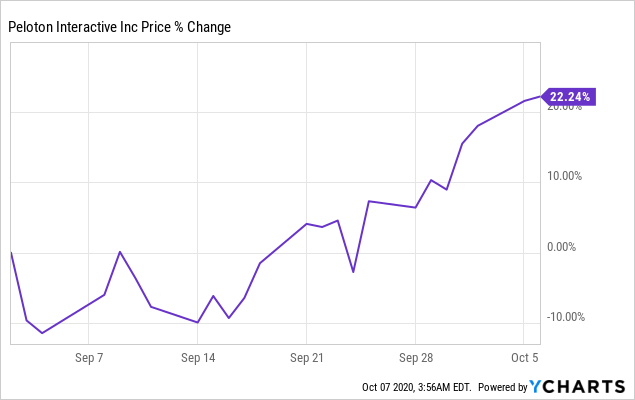 Why Our System Is Bullish On Peloton Now
Every trading day, our system looks at every security with options traded on it in America, and estimates a potential return for it over the next six months. These are high-end, bullish estimates, and they are driven by an analysis of past returns as well as forward-looking options market sentiment. Essentially, we start with the premise that stock and ETF returns will revert to their long-term means, and then we test that assumption by looking at how options market participants are betting on where each security will be six months from now.
We then calculate the cost of hedging each name, and then rank every security by its potential return, net of its hedging cost. As of Tuesday's close, these were the top ten names in our daily ranking.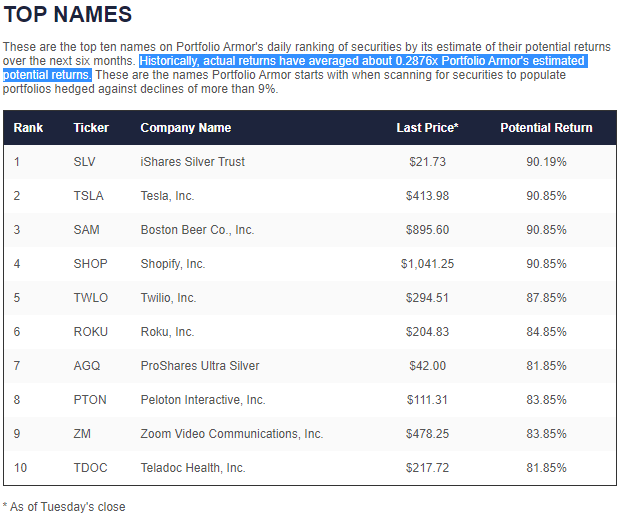 As you can see above, Peloton was #8. Interestingly, the next two names on the ranking, Zoom (ZM) and Teledoc Health (TDOC) have also been beneficiaries of COVID-19 lockdowns.
In Case We're Wrong About Peloton (Or It Pulls Back)
In the event our system is wrong about Peloton, we show updated ways of hedging it in the video below. The methods we use involve scanning for the optimal, or least expensive, put options and collars to protect the stock.
Even if our system's bullishness about Peloton ends up being right, the hedges we show above could work opportunistically for investors if there's a near-term pullback. Longs confident that Peloton will recover from the pullback could sell appreciated put options to buy more shares, while buying-to-close the call legs of their collars to eliminate their upside caps.