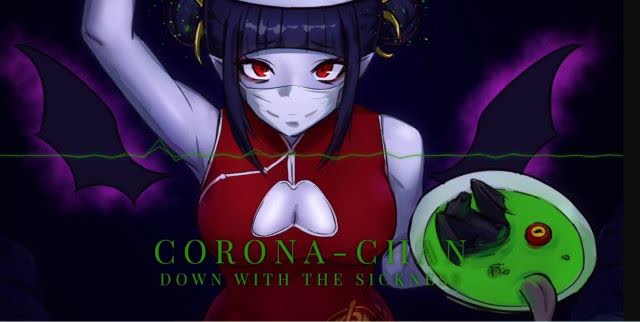 "Corona-Chan" meme.
Pressure To Get Vaccinated Intensifies
In our Corona Doom 2.0 post earlier this month, we wrote that the government would use the threat of renewed lockdowns to push the unvaccinated to get vaccines, and that that would benefit one of our recent top names, BioNTech (BNTX), the vaccine maker that partnered with Pfizer (PFE):
It seems likely that the federal and state governments in the U.S. will use the threat of lockdowns to pressure unvaccinated people to get vaccinated. A likely beneficiary of that will be one of our recent top names, BioNTech (BNTX).
Since then, local governments have intensified the pressure to get vaccinated. A good example is the New York City. Although the Big Apple takes somewhat lax approach to preventing hatchet attacks on its citizens,
it is planning to clamp down on the unvaccinated. This week, the mayor announced that the unvaccinated would be banned from pretty much all indoor activities (with the possible exception of attacking someone with a hatchet inside an ATM vestibule).
This sort of thing ought to be good for business for BioNTech, and our other recent Covid vaccine-maker top name, Moderna (MRNA). Now, they have another tailwind: booster shots.
Bring On The Booster Shots
In a nice twist, the vaccine makers are benefiting from an unexpected decline in the efficacy of their vaccines. As a result, the Biden Administration is now recommending Americans who are already vaccinated get a booster shot of the vaccine eight months later.
BioNTech and Moderna have both pulled back a bit recently, after the report last week from the European Medicines Agency about side effects of the Moderna vaccine.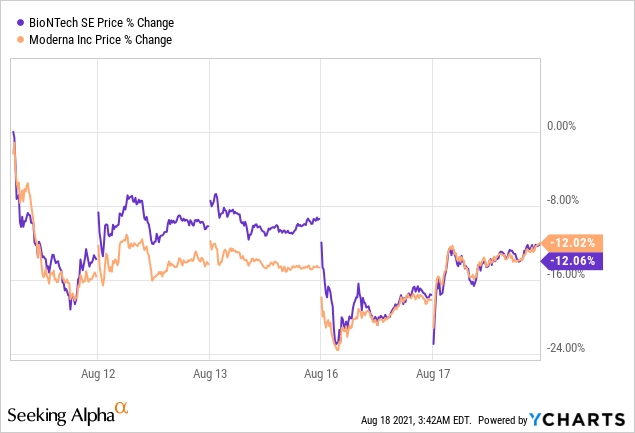 Given that both Moderna and BioNTech's vaccines have been approved for booster shots in the U.S., this pullback might be a buying opportunity. If you're worried that there might be a significant setback — say, reports of more widespread serious side effects, or a broad market correction — we show a way of hedging Moderna below.
Adding Downside Protection To Moderna
Let's say you own 200 shares of MRNA and you can tolerate a 25% decline, but not one larger than that. This was the optimal collar to hedge against a >25% decline in Moderna by late January, while not capping your possible upside at less than 36%.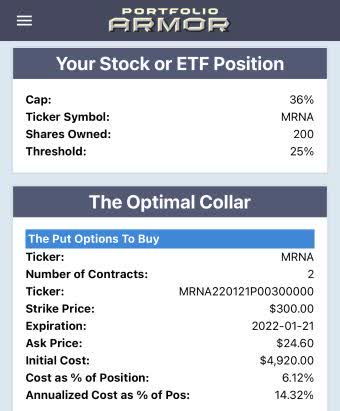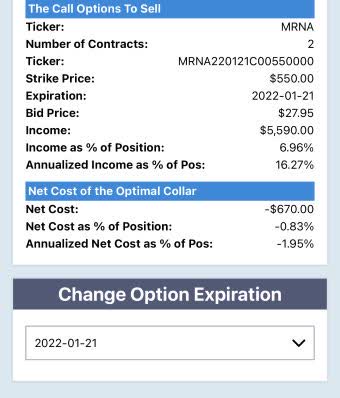 Screen captures via the Portfolio Armor iPhone app.
Here, the net cost was negative, meaning you would have collected a net credit of $670 when opening the hedge. That net credit was calculated conservatively, assuming that you placed both trades at the worst ends of their respective spreads (buying the puts at the ask and selling the calls at the bid). Since you can often buy and sell options at some price between the bid and the ask, your net credit would likely have been larger if you opened this collar on Tuesday.