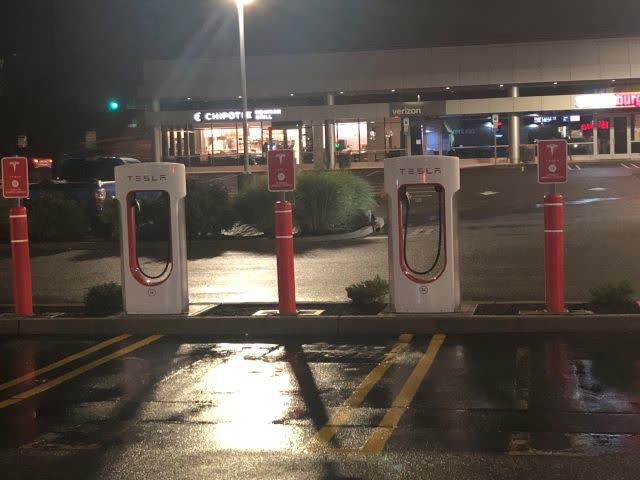 Tesla charging stations in a Wawa parking lot. Photo by author.
Picking Tesla In May 2020
Tesla (TSLA) exemplifies the recent challenges of our security selection process. How it does over the next several months will impact how we pick stocks going forward, so I thought it might be useful to sketch this out a bit.
Each day the stock market is open, our system selects the names it estimates will have the highest potential returns over the next six months, based on a handful of factors that gauge stock and options market sentiment. We started tracking a new factor in September of 2019, and after several months of observation added it to our top names selection process in late May of 2020. On May 28th, the new factor applied to four stocks in our top ten, Tesla, Netflix (NFLX), Twilio (TWLO), and Regeneron (REGN).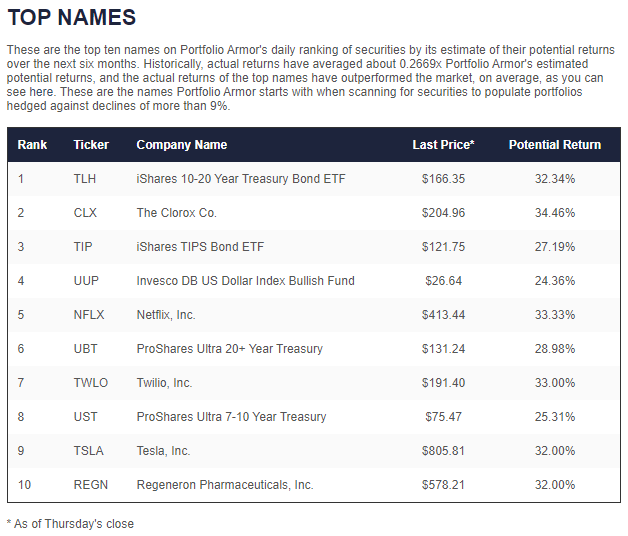 Screen capture via Portfolio Armor on 5/28/2020.
Over the next six months, three out of the four names selected by the new factor generated positive returns, with Tesla more than tripling.
Most of the other times the new factor picked Tesla in 2020, its performance was good over the next six months. Unfortunately, the factor also picked Tesla right near its peak in January of this year.
Picking Tesla In January 2021
Tesla dropped 21% in the six months after it hit our top names on January 7th of this year.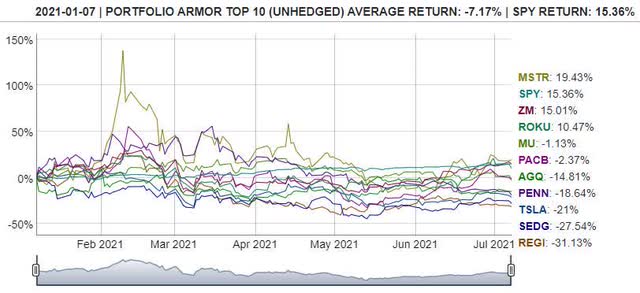 The line with the big spike in early February in that chart is the Bitcoin stock MicroStrategy. It posted a positive return over the next six months from January 7th, but you can see the same issue here, of our new factor picking stocks near their peaks. Let's look at what the new factor is, because it has picked MSTR as a top name again recently, as well as TSLA.
The New Factor
The new factor we added is essentially a measure of options skew. Our hedging algorithm scans for an optimal collar to protect against a greater-than-9% decline in a security over the next several months, while capping its possible upside at 1% or the current money market yield, whichever is higher. Here's what that looked like for Tesla on Friday, when it was again one of our top ten names.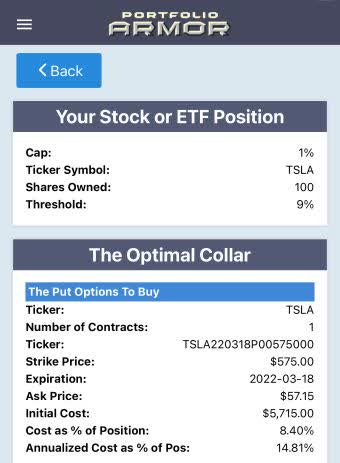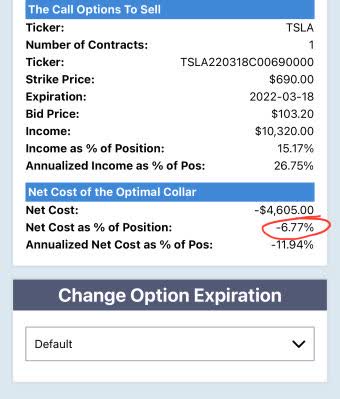 Screen captures via the Portfolio Armor iPhone app.
The number circled in red there, -6.77%, is the net cost of the collar. That cost was negative because options market participants were willing to pay a lot more for the out-of-the-money (OTM) call option on Tesla (a bet that the stock would be higher next March) than for the OTM put option (a bet that the stock would be significantly lower next March). A cost of -6.77% was low enough (negative enough) to put Tesla in the top ten on a ranking of the new factor alone on Friday.
Navigating An Extraordinary Year
At its peak, securities that scored well on the new factor had, in aggregate, outperformed ones that didn't by about 31% over the next six months, so we gave those names a 31 point boost in our selection process. As of Friday, the advantage had dropped to 24%, so we lowered the boost accordingly (our system adjusts this automatically every trading day). One question the trend raises is whether it would make sense to stop using the new factor now. Our decision has been to stick with it, as long as it's still generating outperformance in aggregate.
It's possible that this factor will end up being cyclical; if so, we may be able to identify likely peaks and troughs and start using it near a trough and stop using it near a peak. But this year has been extraordinary in a few respects, from the peak in GameStop (GME) in January, to the peak in Bitcoin in April. Both are relevant to our new factor as it has selected both Bitcoin and meme stocks recently. As I type this, Bitcoin is making a three month high; if it goes on to make new all-time highs this year, it's likely our new factor's aggregate outperformance will start to tick back up, as Bitcoin names it has selected recently post strong returns. The same will be true if Tesla makes new highs this year. In either case, we'll follow the data where it leads and adjust our security selection process accordingly.