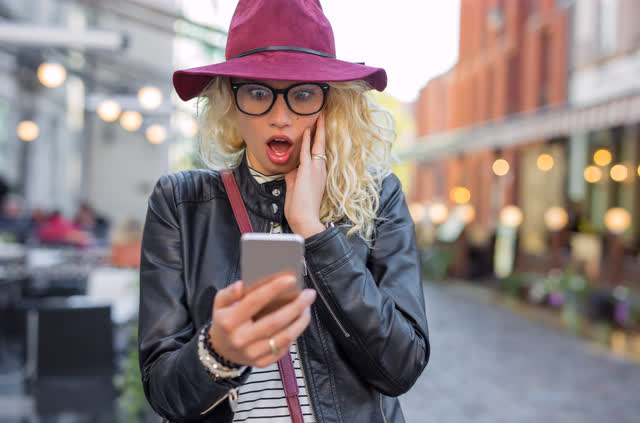 Our conception of an Amazon shareholder checking her portfolio on Friday if Amazon has a big earnings miss on Thursday (photo via our Shutterstock subscription).
A Tough Market For Earnings?
On Monday, Tesla (TSLA) released earnings that beat estimates. The next day its shares were down 4.5%. How much would they have been down if the company had missed earnings? With that market reaction in mind, Amazon (AMZN) shareholders may want to consider hedging ahead of earnings.
Concerns About Amazon Web Services
Amazon is expected to release earnings on Thursday. Given that AWS (Amazon Web Services) has been responsible for more than half of Amazon's profits in the past, Mott Capital Management raised concerns this week about AWS performance:
The operating income of AWS historically represents more than 50% of Amazon's total operating income. This would mean that if AWS does not provide Amazon the needed operating income, the overall operating income for Amazon will be weakened, this could weigh heavily on Amazon's total earnings per share.

But the problem with AWS is twofold – slowing growth and plateauing operating income. This means if AWS spent a lot of these questions because of increasing competition threats, operating income could come in weaker, which means Amazon will need to lean on the rest of its business to keep operating income moving higher.
Our System's Take On Amazon
Our system estimates potential returns over the next months based on previous total returns and current options market sentiment. Over the years, Amazon has frequently been one of our top ten names, most recently last November.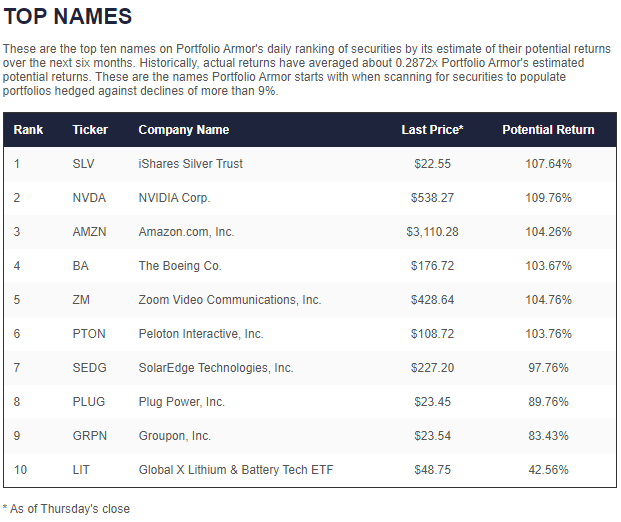 Screen capture via Portfolio Armor on 11/12/2020.
Since then, Amazon's up about 9.9%.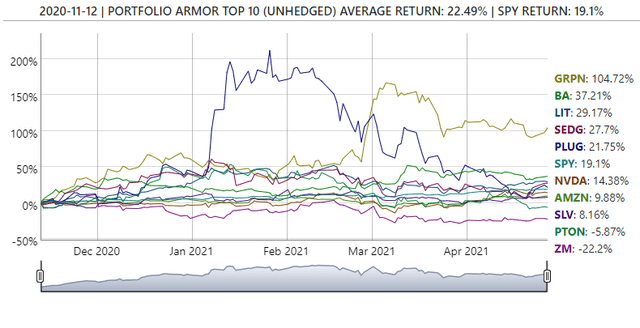 Currently, our system estimates a potential return of about 7% over the next six months.
Limiting Your Risk Ahead Of Earnings
In the brief video below, we show a couple of inexpensive ways to hedge Amazon ahead of earnings.
In that video, we used our app to scan for optimal hedges against a greater-than-7% decline in Amazon shares, but you can use it (or our website) to scan against smaller declines if you're more risk averse. As of Tuesday's close, there were similar negative cost collars available against decline thresholds as small as 3%.