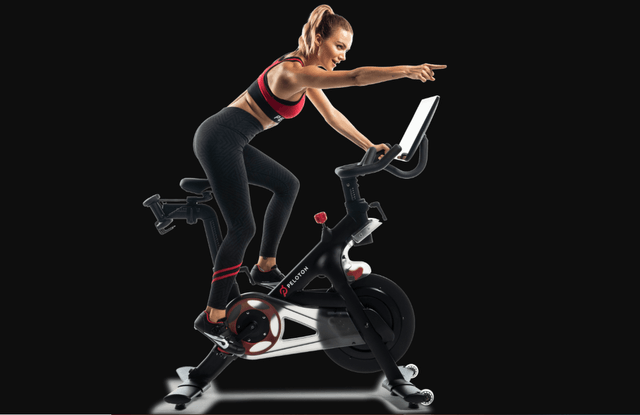 Peloton instructor Leanne Hainsby (image via Peloton).
One Of 2020's Big Winners
Pelaton Interactive (PTON) was one of the big winners of 2020, as Covid lockdowns increased demand for its bikes and classes, but its stock peaked in January of this year.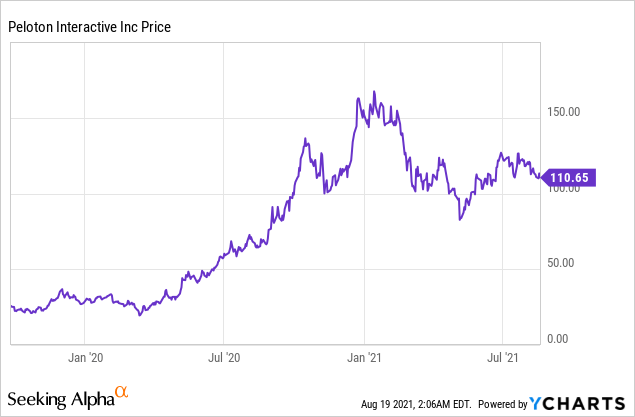 Social Data Stays Bullish On Peloton
In March, after Peloton shares had pulled back about 35% from their high, social data analysis firm LikeFolio wrote that Wall Street may have been underestimating the company:
LikeFolio data suggests the Street may be underestimating Peloton.
Metrics show Peloton is best in class, and has staying power.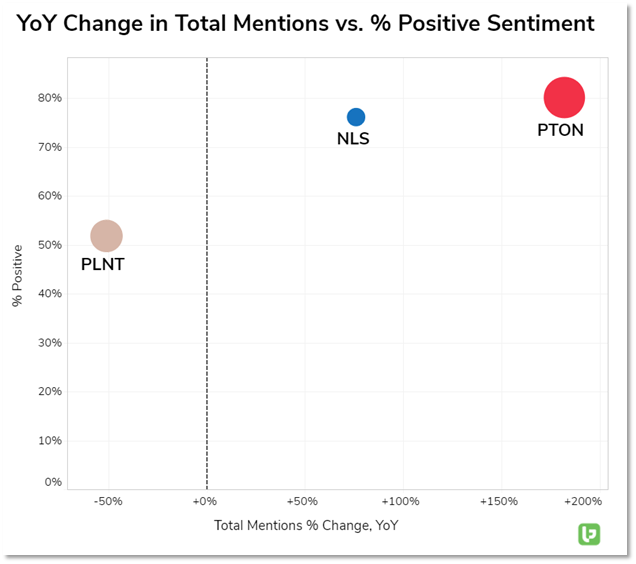 Consumer demand is still building: mentions of purchasing a Peloton machine continue to grow, and have increased +162% YoY.
Total Mentions and App Usage support user retention: Peloton total mentions are at an all-time high and growing at an even faster rate than demand.
Consumer macro behaviors suggest stickiness: the 4 trends showing the most significant YoY growth are all tailwinds for PTON: virtual trainers, working out at home, spinning, and cycling for exercise. On the flipside, gym memberships and group fitness class trends continue to exhibit YoY weakness.
The largest indicator of negative sentiment LikeFolio found on Peloton were complaints that customers weren't getting their bikes as fast as they wanted; LikeFolio noted that Peloton had invested $100 million in improving fulfillment in response.
Peloton Hits Our Top Ten Again In April
Peloton first hit our system's top ten on September 24th. After its pullback early this year, it returned to our top ten on April 1st.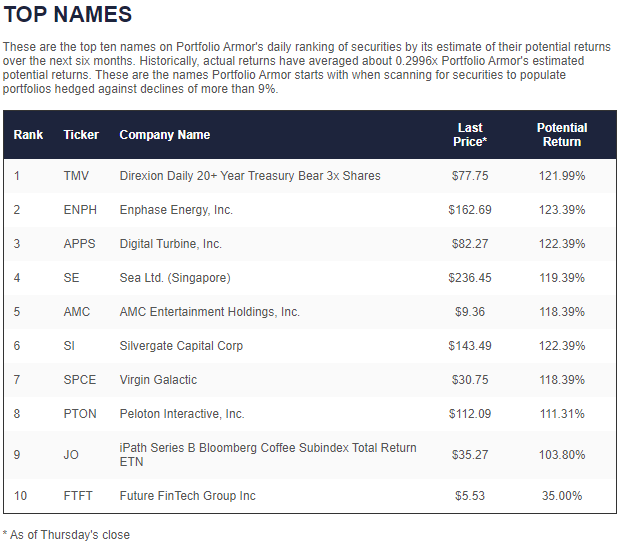 Screen capture via Portfolio Armor on 4/1/2021.
Since then, PTON shares have basically gone sideways. They were down 1.28% from April 1st to Wednesday's close, well below our best performer so far from that cohort, AMC Entertainment Holdings (AMC).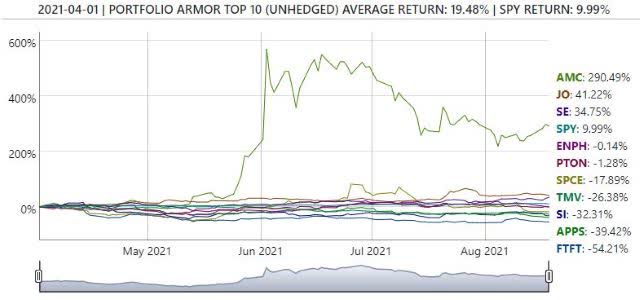 We Get A Peloton
Peloton came to mind on Wednesday because we had one delivered then. I had ordered the bike on Sunday, so that suggests the company made progress on its fulfillment. As the company's delivery guys set up the bike and explained its features, I asked one of them how many deliveries they were making this summer versus last summer. I was surprised when he said he and his partner were making the same: about eight per day. The one difference he mentioned was that the time between orders and deliveries had shrunken.
Peloton's Moat
Warren Buffett famously talked about businesses with a "moat", a barrier to competition. To the uninitiated, Peloton might seem like it's a stationary bike with an iPad attached, but they seem to have built a brand that attracts loyal customers. I can see why. First, the equipment and packaging has the sort of premium look and feel you expect from a company like Apple (AAPL). Second, the company's instructors are a differentiator. They are celebrities in their own right. When the London-based Peloton instructor pictured above got engaged last month (to another Peloton instructor), it made the Daily Mail. Can you name any NordicTrack instructors? Peloton seems to be carving out a niche as the Apple of interactive spinning classes. Its shares might be worth considering while they are still down from their all time highs. If you decide to buy them, we'll look at a way you can limit your downside risk below.
Limiting Your Downside Risk In Peloton
If you don't want to pay to hedge, but you also don't want to risk more than a 25% drop in Peloton over the next several months, here's a way to do that.
As of Wednesday's close, this was the optimal collar to hedge 500 shares of PTON against a >25% drop by March, while not capping your possible upside at less than 35% over the same time frame.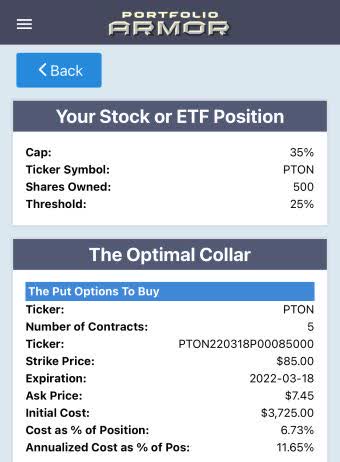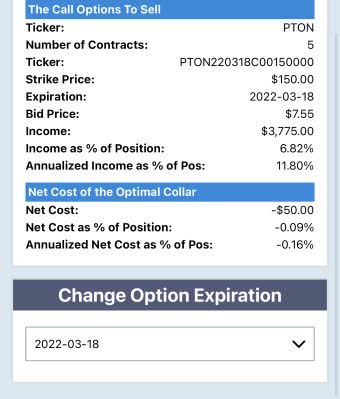 The net cost of this hedge was negative, meaning you would have collected a net credit of $50 when opening it (calculated conservatively, assuming you bought the puts at the ask and sold the calls at the bid).