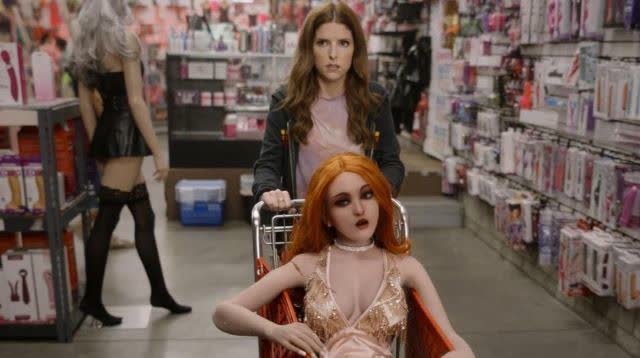 Anna Kendrick in the "Roku Original" show "Dummy" playing a woman who befriends her boyfriend's sex doll.
The Summer Of Our Discontent
Remember last summer? Many of the places where normal people socialized were shut down due to COVID. Unless you were the rioting type, you probably spent more time than usual sitting on your couch, watching TV. One of the beneficiaries of that trend was the streaming platform Roku, Inc. (ROKU). Roku was one of our system's top ten names on Friday, and it was also the subject of favorable press that day. Roku was a big winner for us last year. More on that below, but first, let's talk about the favorable press on it.
Successfully Recycling Overpriced Content
You may recall hearing about a start-up called Quibi a few years ago. The name was a portmanteau of "Quick Bites": it was an app streaming short shows designed to be watched on your smartphone while waiting in lines or during other downtime. It had all the hallmarks of a near certain failure: a huge capital raise, a launch with great fanfare, a boomer CEO (Meg Whitman) charged with leading a new mobile app company, etc. And, as expected, it failed. Roku bought Quibi's content though and rebranded it as "Roku Originals". As Variety reported on Friday, Roku said more of its accounts streamed the content in two weeks than did during Quibi's lifetime.
In the case of the Anna Kendrick show above, this looks like a case of double recycling: Roku recycled the Quibi show, which itself appears to be a retread of the 2007 indie movie "Lars and the Real Girl".
How Roku Came To Rule Streaming Video
The other bit of favorable press for Roku on Friday came from CNBC.
The article focuses on Roku's origin story as essentially an offshoot of Netflix, and notes a parallel between the two company's growth trajectories:
[I]f media companies don't work with Roku, where can they turn for distribution? Apple, Google and Amazon are still bigger long-term threats, rich with data and cash, with the power to outspend legacy media for content if they desire. Roku has used its "we're just the little guy" approach to its benefit throughout its existence.

For now, Roku's media partners aren't worried.

"I don't think they're challenging to do business with given their market scale," said Steve MacDonald, president of global content licensing for A+E Networks. "They're very collaborative and open about information about how we can better monetize our relationship together. They promote our content. They're good partners."

That's what the media industry used to say about Netflix.
A Top Name Of Ours Last Summer Too
As we mentioned above, Friday wasn't the first time Roku appeared as one of our top ten names. Roku was one of our top ten names on July 16th of last year as well.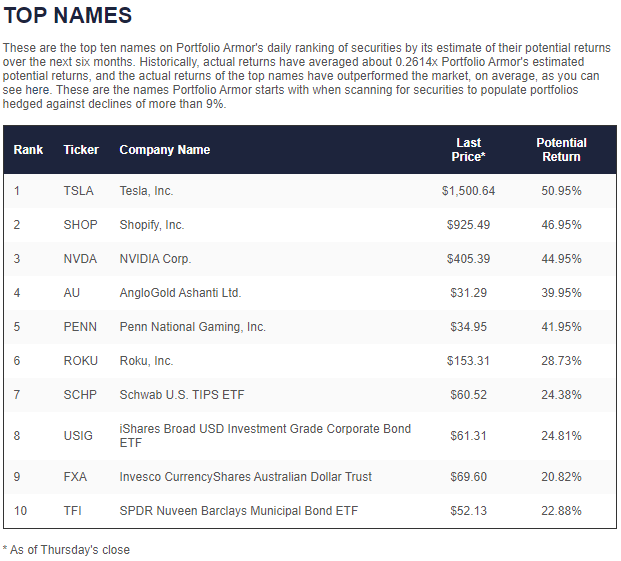 Screen capture via Portfolio Armor on 7/16/2020.
It was our 3rd-best performer from that top names cohort, rising over 166% over the next six months.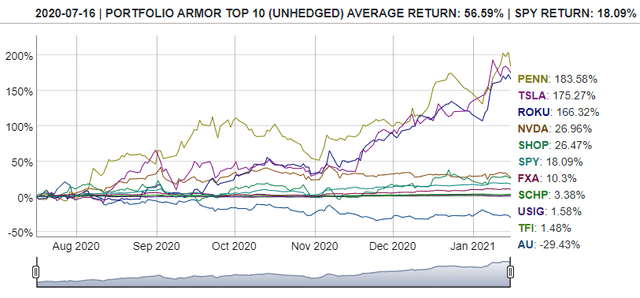 Although gyms, restaurants, movie theaters, and other venues have reopened this summer, the American trend toward being sedentary and watching TV at home preceded COVID and will likely continue beyond it, providing a tailwind for Roku. In the event that doesn't happen though, we look at ways of hedging Roku below.
In Case We're Wrong About Roku This Time
In the video below, we use our app to scan for optimal hedges on Roku.
In particular, we show how adjusting the time to expiration of a hedge can affect both its dollar cost and its annualized cost as a percentage of position value.
Something to consider if you want to place a hedged bet on Americans being sedentary and watching more TV.