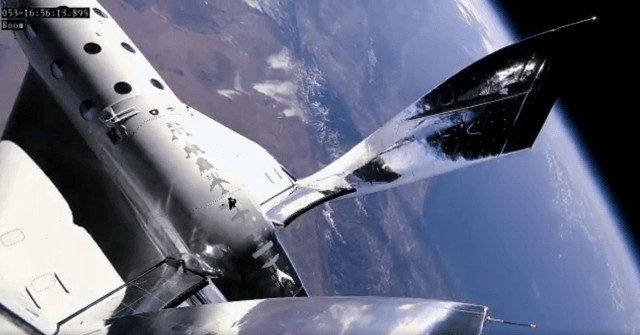 Still image from the boom of SpaceShipTwo (via Virgin Galactic's Twitter page).
Virgin Galactic Gets Green Light From The FAA
Big news for Richard Branson's space tourism company Virgin Galactic (SPCE) broke on Friday: the Federal Aviation Administration granted it a full commercial launch license. https://seekingalpha.com/embed/15475
Shares of Virgin Galactic gapped up 39% in response.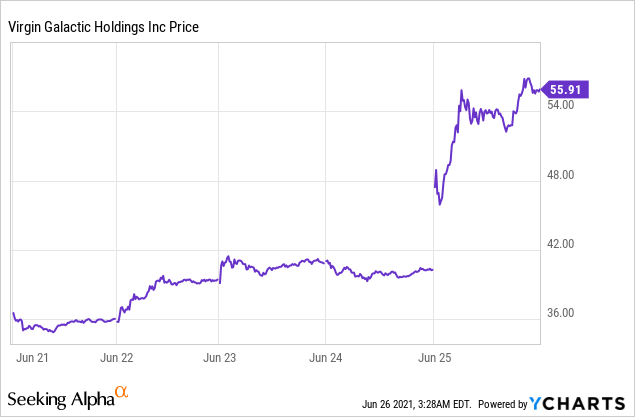 The FAA license is a key milestone, but there are a few more hurdles the company needs to clear before taking customers into the black. Next up for the company are three more test flights. The next one could happen in July, and reportedly might include Virgin Galactic founder Richard Branson as a passenger. Considering that Jeff Bezos's competitor, Blue Origin, recently auctioned off a seat on a future space flight for $28 million, there might be some promise in Virgin Galactic if it clears its remaining hurdles to space tourism.
A Top Name Of Ours In April
Readers may recall we've written about our top ten names cohort from April 1st before, in the context of the meme stock that appeared in it, AMC Entertainment Holdings (AMC). In this post, for example: The Return of The Meme Stock. Virgin Galactic was our seventh-ranked name in that same cohort.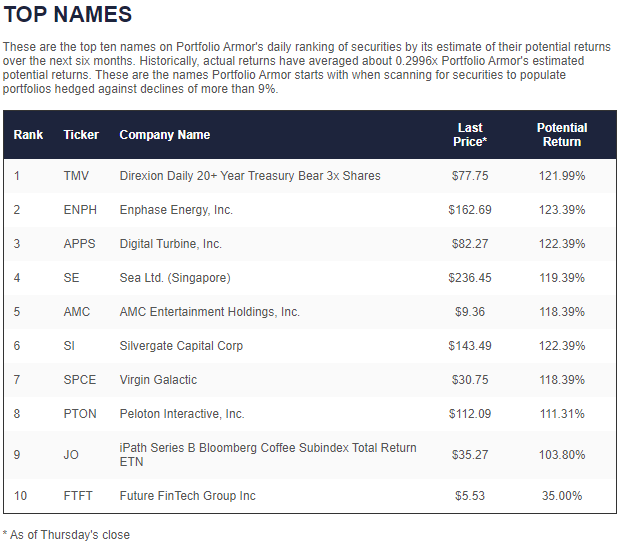 Screen capture via Portfolio Armor on 4/1/2021.
As of Friday's close, it was up about 82%, making it the second best performer so far after AMC.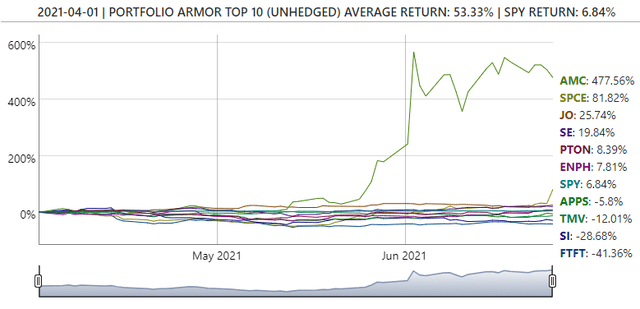 It's been a nice run so far, but the upcoming test flights would seem to be significant risk factors.
In Case Virgin Galactic Crashes Back To Earth
Let's hope it doesn't happen, but I don't think we can rule out the possibility of a catastrophic test flight for Virgin Galactic over the next few months. I assume Branson is taking whatever safety precautions he can. His shareholders ought to consider doing the same. Here's one way of doing so.
SPCE was too expensive to hedge against a greater-than-25% drop over the next few months with puts on Friday: the cost of the cheapest puts that would give you that level of protection was more than 25% of your position value. It was possible to hedge SPCE with an optimal collar though.
As of Friday's close, this was the optimal collar to hedge 1,000 shares of SPCE against a greater-than-25% drop by mid-October, while not capping your possible upside at less than 43%.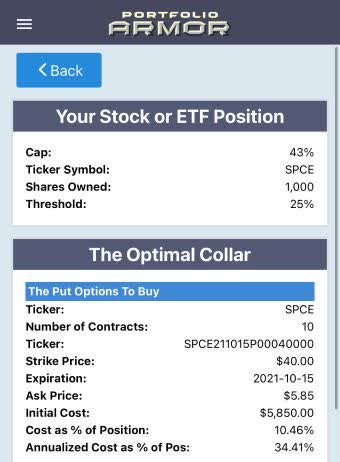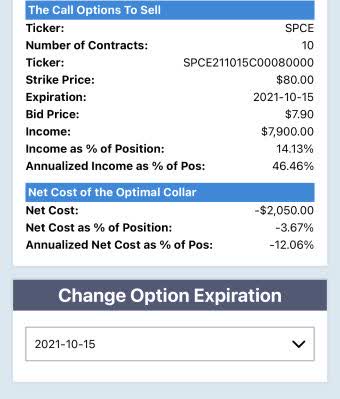 Screen captures via the Portfolio Armor iPhone app.
As you can see above, the net cost of this collar was negative, meaning you would have collected a net credit of $2,050, or 3.67% of position value, assuming, to be conservative, that you placed both trades at the worst ends of their respective spreads (buying the puts at the ask and selling the calls at the bid). In practice, you can often buy and sell options at some price between the bid and ask, so your net credit here would likely have been larger.
Something to consider if you're sitting on Virgin Galactic gains now.
If You Want To Stay In Touch
You can follow us on Twitter here, subscribe to our email list here, and subscribe to our YouTube channel here.