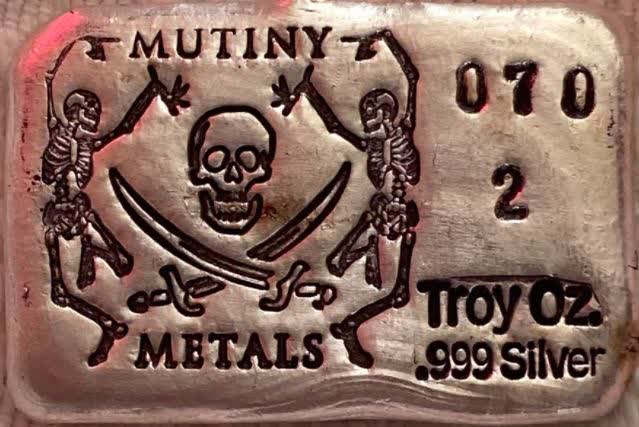 At least this silver bar is pretty to look at (image via r/SilverBugs).
The Elusive Silver Squeeze
We've been hearing about an imminent squeeze in silver all year. Inflation is bubbling through the economy as post-COVID expansion continues. Commodity fund manager Doug King told Bloomberg this week, "Everyone wants everything now, right now". https://seekingalpha.com/embed/15526
Everything except silver, apparently. Year-to-date, the metal is down slightly, despite the promised silver squeeze and the most inflation pressure in years.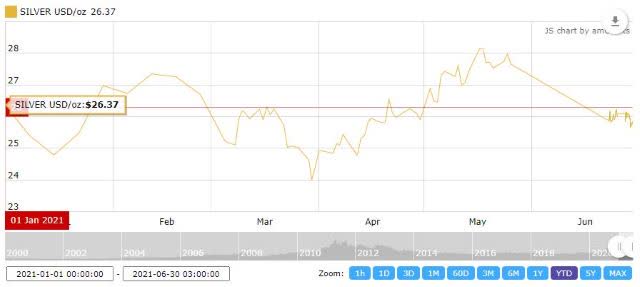 Silver chart via Kitco.
Maybe you'll have to wait a bit more for that elusive silver squeeze. In the meantime, let's look at a stock that may be experiencing an actual short squeeze.
The Thirteenth Most Heavily Shorted Stock
In an article at the beginning of the month (AMC Goes Parabolic), we wrote about another recent top name of ours:
On Wednesday, ZeroHedge posted this list of the most shorted stocks.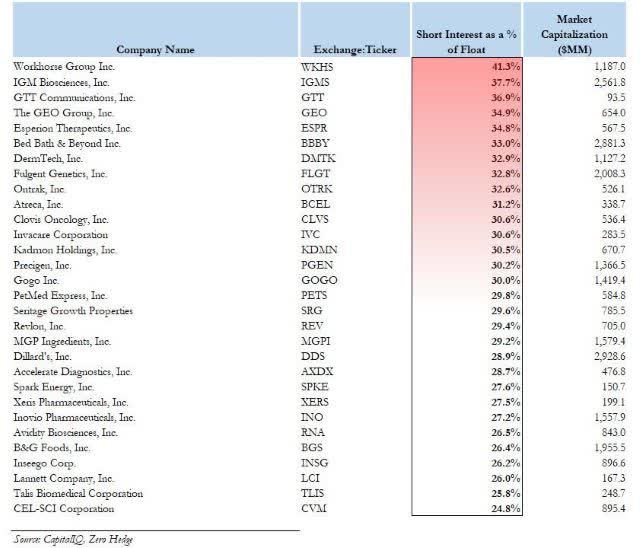 Screen capture via ZeroHedge.
One of those names, Fulgent Genetics, Inc. (FLGT), was one of our site's top names on Tuesday [June 1st].
Since then, Fulgent Genetics was up 38% as of Tuesday's close. It was our second-best performer from our June 1st Top Ten Names cohort, behind only the Bitcoin accumulator MicroStrategy (MSTR).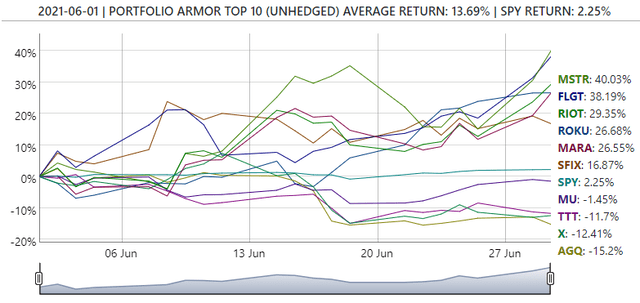 Despite being up about 38% in the last month, FLGT is still one of the most heavily shorted stocks in America.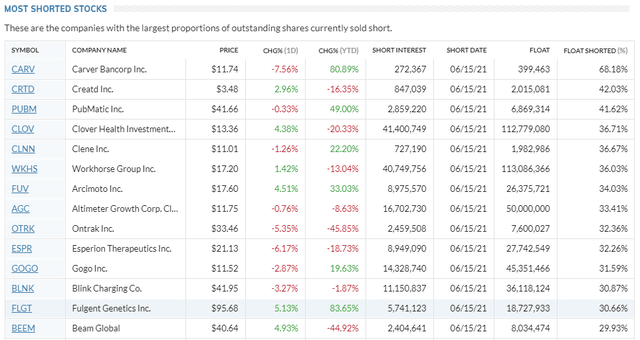 Table via MarketWatch.
What's The Catch?
We don't generally look at fundamentals, but the fundamentals on FLGT are strong: about $400 million in cash on its balance sheet, versus about $16 million in debt; a trailing P/E of about 6; etc. The bearish case for the stock is that most of its revenue has come from COVID-19 testing, and in a couple of years, its revenue will drop off as the need for COVID testing drops. Maybe so. But as the emergence of the new "delta variant" suggests, the need for genetic testing for novel coronaviruses and possibly other diseases may last a while longer.
Limiting Your Risk In Fulgent Genetics
The first time Fulgent Genetics appeared as one of our top names was in September of last year.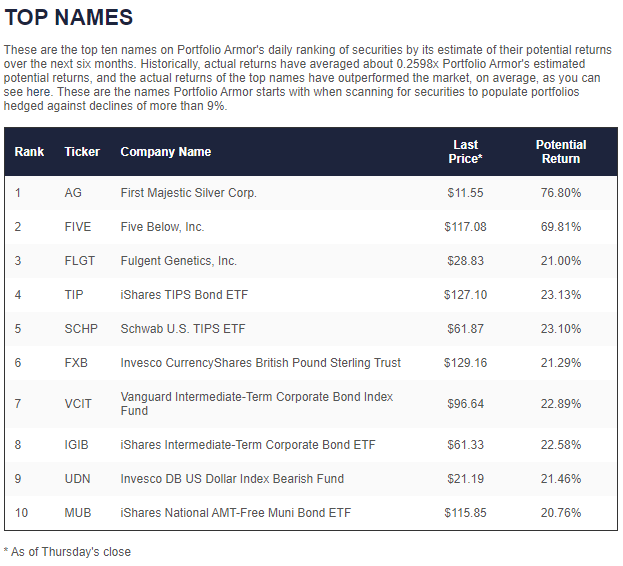 Screen capture via Portfolio Armor on 9/3/2021.
As you can see in the chart below, FLGT has been pretty volatile.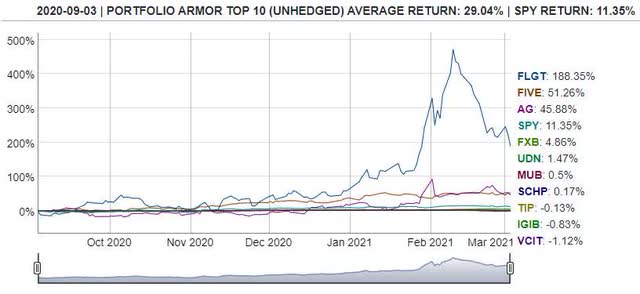 It was up 188% over that six-month period, but that was after it plummeted from its early February highs. Given that kind of volatility, you ought to take steps to limit your risk if you go long the stock.
This is the point where we'd normally post a screenshot of an optimal hedge for FLGT from our hedging app. You could take that route, but here we'll suggest an alternate approach. Think of the dollar amount you'd typically allocate to one speculative stock. Then decide the maximum decline you'd be willing to risk in that position, in decimal terms (so, for example, 0.25 for 25%). Then multiply the two together and use that dollar amount to buy long dated, out-of-the-money calls on FLGT. In other words, only spend an amount of money you are comfortable losing, and limit it to that.