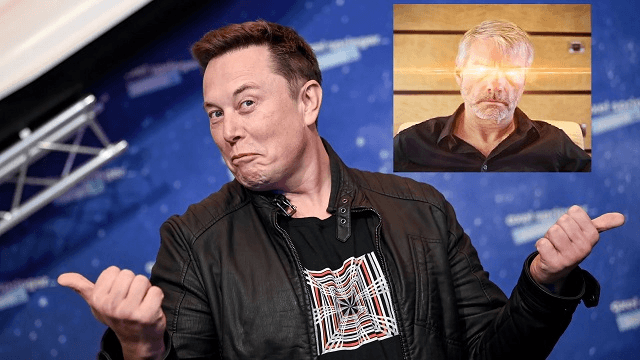 Elon Musk and MicroStrategy CEO Michael Saylor.
Meet The Bitcoin Plunge Protection Team
As we reminded readers last week (Ideas For Bitcoin Bulls), MicroStrategy (MSTR) CEO Michael Saylor is the man who prompted Elon Musk to add Bitcoin to Tesla's balance sheet earlier this year. On Monday he tweeted that he had hosted a meeting between Elon Musk and executives from the leading Bitcoin miners in North America.
Two Recent Top Names In The Meeting
MicroStrategy was one of our top ten names when we mentioned it last week. In our post yesterday (Wall Street Considers "The Flippening"), we wrote about another listed in Saylor's tweet, Riot Blockchain:
Despite the crypto crash, we still had a couple of crypto-related stocks in the top ten of our daily ranking on Friday, Riot Blockchain (RIOT), and Silvergate Capital (SI).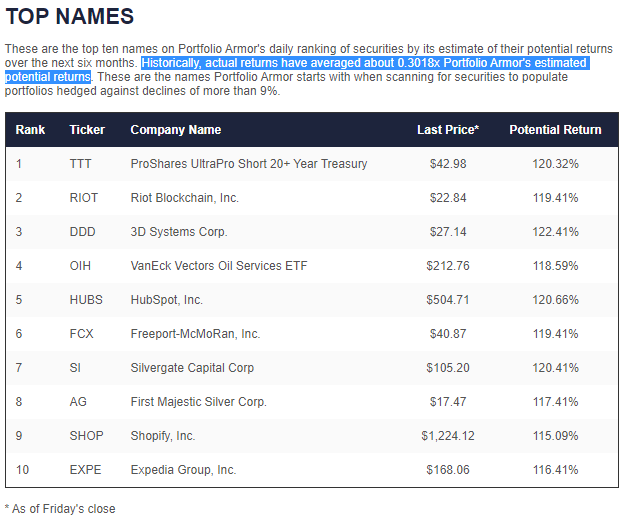 Screen capture via Portfolio Armor as of 5/21/2021.
Shares of RIOT were up 13.6% as Bitcoin bounced on Monday.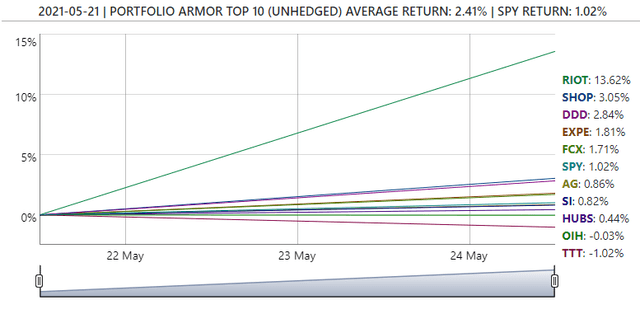 In the event RIOT goes south again, we've included a brief video about how to hedge it below. First, a comment on how RIOT exemplifies an irony about about the China/environmental angles with respect to Bitcoin mining.
How China Facilitated American Bitcoin Mining
As ZeroHedge noted on Monday ("Crypto's Soar After Musk, Saylor Speak To Bitcoin Miners, Will Standardize Energy Reporting"), China's sowing of fear, uncertainty, and doubt about Bitcoin may have been an attempt to knock down the flagship cryptocurrency to bolster the digital yuan. Failing that, ZeroHedge wondered if Chinese Bitcoin miners would ultimately participate in the "standardized energy reporting" Michael Saylor tweeted about:
It wasn't immediately clear if any Chinese bitcoin miners are part of this organization – they should be, after all the dirtiest bitcoin mining takes place in China's infamous Xinjiang region – but it's a start, and if indeed we are about to see mining standardization, one which pushes more output to the US and other "clean" regions, this could be just the catalyst that eliminates the biggest ESG ["Environmental, Social, Governance"] complaint against cryptos.
An irony here is that a reason America has clean energy available to power Bitcoin mining is because, with the complicity of American elites, China hoovered up so much of our heavy industry. Riot Blockchain exemplifies this. Its Bitcoin mining rigs are currently hosted by Coinmint, in a giant plant in the Rustbelt city of Massena, New York. The plant used to use an Alcoa aluminum smelter. You can see it in the video below.
There's lots of low cost wind- and hydroelectric-generated energy in the area, and not much heavy industry competing for it these days.
Adding Downside Protection To RIOT
As we note in the video below, Riot Blockchain was too expensive to hedge with optimal puts, but there was an attractive optimal collar available for it.
We used the default setting on our app in that video, which scans for options expiring about six months out, but you might be able to find an even more attractive hedge if you look at different times to expiration.